"Dream" Speech, Peace March Kick Off a Week of MLK Events
By Marcia Goodrich | Published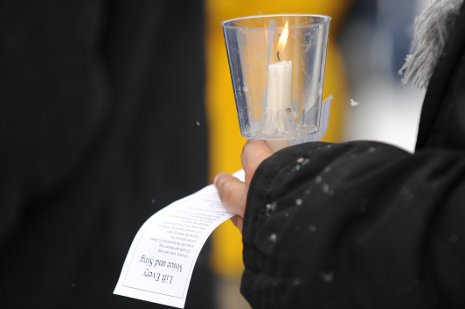 Michigan Tech is honoring Martin Luther King Jr. with a week of observances beginning on Monday, Jan. 18.
At noon, mechanical engineering undergraduate Gregory D. Hardy will deliver King's famous "I Have a Dream" speech on the steps of the Memorial Union. His address will be followed by a candlelight vigil and march to the Rozsa Center, where a reception will be held at 1 p.m.
Everyone is invited, and students from L'Anse High School and Asian students from Finlandia University will be participating in the activities.
At 7 p.m., the Black Student Association is hosting a viewing of CNN's "Black in America, Part 2" in Walker 134.
A blood drive will be held on Wednesday, Jan. 20, at noon at the Van Pelt and Opie Library. This Martin Luther King Jr. Service Project is being organized by Student Activities, Health Options for a Wellness Lifestyle (HOWL), and the Black Student Association.
A DiversiTEA, "Class and Privilege Among Students," will be held at 4 p.m. Wednesday in Memorial Union Alumni Lounge A. William Kennedy, the director of the Center for Teaching, Learning and Faculty Development, will be the guest speaker.
The student chapters of the National Society of Black Engineers and the Society of Hispanic Professional Engineers will give a talk Thursday, Jan. 21, at noon in the Memorial Union Peninsula Room, "The Lives of Dr. Martin Luther King and Cesar Estrada Chavez." They will discuss parallels between the lives and work of the great civil rights and labor leaders.
At 6 p.m. Thursday, Chet DeFonso, a faculty member from Northern Michigan University, will present "Civil Rights, Then and Now," in Fisher 325. DeFonso's visit is sponsored by Keweenaw Pride.
On Saturday, Student Activities is inviting volunteers to bake bread for the elderly from 9 a.m. to noon in the Wadsworth Hall dining area. For more information, email communityservice@mtu.edu .
The week concludes with the annual MLK Banquet, set for 6 p.m. Saturday, Jan. 23, in the Memorial Union Ballroom. The guest speaker is Joe Rogers, former lieutenant governor of Colorado and founder of The Dream Alive Program. Rogers, who came to Tech for the 2005 MLK banquet, is an inspirational speaker who focuses on the heritage of King and other leaders of the civil rights movement. Tickets are $20 and are available from Multicultural Affairs by calling 487-2920.
For more information, contact Kevin J. Walker, interim coordinator of African-American student support, at kjwalker@mtu.edu.
Michigan Technological University is a public research university, home to more than 7,000 students from 54 countries. Founded in 1885, the University offers more than 120 undergraduate and graduate degree programs in science and technology, engineering, forestry, business and economics, health professions, humanities, mathematics, and social sciences. Our campus in Michigan's Upper Peninsula overlooks the Keweenaw Waterway and is just a few miles from Lake Superior.