Advisory Board Supports Diversity with "Send a Kid to Camp" Scholarships
By Jennifer Donovan | Published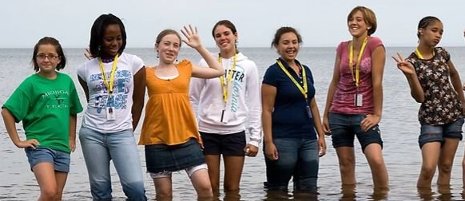 Youngsters often lose interest in science, technology, engineering and mathematics—the STEM fields—before they hit high school, particularly students from groups that are underrepresented in the sciences. Yet those fields form the foundation of a modern technological society.
Michigan Technological University's Corporate Advisory Board for Institutional Diversity (CABID) is extremely concerned about the potential loss of such vital talent. So the CABID fundraising strategy subcommittee, made up of three alumni and a friend of Michigan Tech, challenged themselves. They initiated a demonstration project to raise scholarships that would enable a more diverse group of students to participate in Michigan Tech's on-campus, residential summer academic Youth Programs.
"Bright, ambitious kids need access to great educational experiences regardless of their economic situation," said Terese Hunwick, co-chair of the subcommittee and a managing director of Thayer-Carver, Inc. "When we send a kid to camp at Michigan Tech, we give students an opportunity to see where pursuing their interests and aptitude can take them."
The subcommittee plans to reach out to corporate colleagues and friends, aiming to raise a minimum of $25,000 this year for Youth Programs summer scholarships for students entering seventh, eighth or ninth grades next fall. Scholarship recipients will be selected on the basis of economic need and academic achievement.
"Youth Programs is extremely grateful for the efforts of the Corporate Advisory Board for Institutional Diversity," said Steve Patchin, youth programs outreach director at Michigan Tech. "Participants and their parents have told us that attending our residential programs has provided students with insight into their talents and interests and the confidence that they can succeed in college."
As a board member and co-chair of the Send a Kid to Camp subcommittee, alumnus Frank Krieber said he is proud to support the program. "It will enable young people who otherwise might not have had this opportunity to understand the different opportunities available to them past high school and to interact with other kids who share their interests, not just from Michigan, but from other parts of the country and the world," the Dell Inc. account manager explained.
"The responsibility for sustaining and growing a diverse community is more than a philosophical outlook; it happens one student at a time," said Beth Baumgarten, a human resources client relations consultant at DTE Energy and another member of the subcommittee. "We hope that this grassroots effort will take hold and catch students at a vulnerable time in their development to widen their understanding of possibilities, improve their confidence in technical fields and expose them to campus life at Michigan Tech."
Chris Anderson, special assistant to the President for institutional diversity, also praised the initiative. "The Institutional Diversity board is a strong advocate for diversity initiatives at all levels on our campus, she said. This subcommittee, in particular, wants to highlight how our alums and corporate friends might impact a national concern—increasing the numbers of students who graduate from high school and complete postsecondary degrees. Michigan Tech's Youth Programs provide an avenue to engage young people in STEM activities and introduce them to the potential of a college education and to Michigan Tech."
For more information about Youth Programs at Michigan Tech, and to donate see http://youthprograms.mtu.edu/alumni-send-a-kid.php.
Michigan Technological University is a public research university, home to more than 7,000 students from 60 countries. Founded in 1885, the University offers more than 120 undergraduate and graduate degree programs in science and technology, engineering, forestry, business and economics, health professions, humanities, mathematics, and social sciences. Our campus in Michigan's Upper Peninsula overlooks the Keweenaw Waterway and is just a few miles from Lake Superior.