Faces of Carnival: Victoria Demers, Snow Volleyball Rookie
By Dennis Walikainen | Published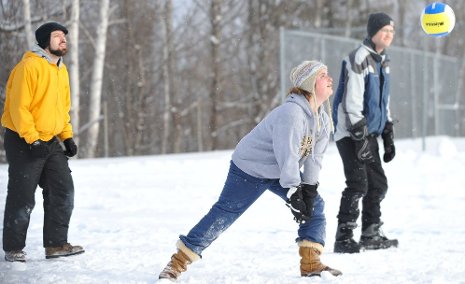 Under grey skies and gently falling snowflakes, Blue Key Honor Society members were setting up the snow volleyball courts for 10:00 a.m. Saturday matches near the Student Development Complex. There were no teams to be seen.
"It's even worse after the all-nighter," said Matt Olgren of Blue Key, as he set up the net. "A lot of no-shows then!"
Those who sleep in miss those all-important Winter Carnival participation points, and Victoria Demers wasn't going to let down her team, the music organization Mu Beta Psi.
She was on time for her 10:30 a.m. match vs. the Baseball Club, whose team members included some from the ice bowling team that won the student organizations division for that event Tuesday night.
Victoria, a mechanical engineering major from downstate Hartland, who expects to graduate in 2011, was playing snow volleyball for the first time, although she had played the sport's more familiar varieties on dry land and sand before.
"We've only got three people," Victoria said, "and you can have as many as six." It wasn't a good omen, as the Baseball Club showed up with four. Undaunted, the Mu Beta Psi team began to warm up.
One secret for playing: "Don't fall down," someone joked. "But, it's still not as hard as hardwood."
Not falling was a tall order, as the players slid around on the hard-packed snow. Hitting the ball was no picnic, either.
"Oh, shoot!" Victoria exclaimed as one of her hits flew backwards. "It's tough with these gloves on."
Another errant hit. "Aaah! That didn't work."
She hit a sharp serve that was in just over the net. "Nice try," she said, when her teammate Jimmer just missed the return.
"Maybe we should play two up," Victoria said, as they tried to account for the extra space. Another couple of wayward shots, and they were down 8-2, but still smiling.
"With the gloves you have to hit it harder," she said.
Teammate Trevor tripped over a ridge of hard snow.
Three returns brought another point and more encouragement. "Nice rally, guys."
Not all of their teammates were sleeping, she said. Some were ice fishing on Chassell Bay, another Carnival special event taking place at the same time.
"Good work, Jimmer. Oh, that was close."
The score wasn't.
"Kind of depressing!" she laughed when told it was 22-8.
Another long volley didn't bring a point, but, in the end, they did secure participation points.
"And we didn't want to end up last because we didn't show up," Demers said.
She planned on working on their statue and attending the queen competition later on Saturday. She'd definitely caught the Carnival spirit.
Michigan Technological University is a public research university, home to more than 7,000 students from 60 countries. Founded in 1885, the University offers more than 120 undergraduate and graduate degree programs in science and technology, engineering, forestry, business and economics, health professions, humanities, mathematics, and social sciences. Our campus in Michigan's Upper Peninsula overlooks the Keweenaw Waterway and is just a few miles from Lake Superior.