Faces of Carnival: Anne Francois, Yooper Sprinter
By Dennis Walikainen | Published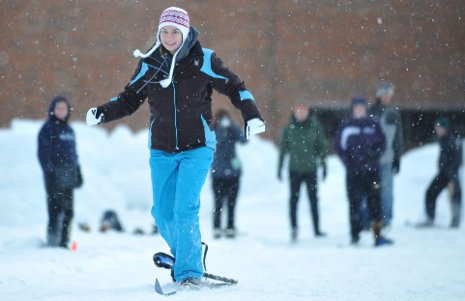 Anne Francois volunteered for the Yooper Sprint Saturday morning to get involved in her first Winter Carnival. The first-year biomed major from Grand Rapids was representing Thermopylae House of Douglass Houghton Hall, with teammates Ruth Eischer and Morgan Parr.
There were part of the bizarre sprint, which requires a cross country ski on one foot and a snowshoe on the other. All were rookies at the event.
It looked as silly as it sounds.
The first problem was gearing up. Anne had to clamp the snowshoe onto Ruth's foot, since it is very difficult to put on a snowshoe while wearing a cross country ski.
"I've never had a cross country ski on my foot," Anne said. She had snowshoed before, however.
"It's like the opposite of a three-legged race," she said.
Actually, the sport was resurrected for Winter Carnival 2009, according to Matt Olgren of Blue Key.
"We wanted a fun sport, too," he said. "There's enough serious stuff; this one's kind of crazy." Some archival digging found the Yooper sprint, but couldn't find the origin of the name.
"You're gonna fall," Ruth told Anne.
"I'm running on my toes," Anne said just before she fell some 20 feet from the starting line.
Actually, there were two starting lines: one on hard-packed snow; the other one buried in four inches of fluff.
Their first sprint of 40 yards would be on the hard pan, and Anne's practice sprints weren't graceful, but they got her used to the exercise.
Sliding the ski while lifting the snowshoe became the plan. All the teammates' results would be combined, "into a cumulative time thing."
"Go Ruth," Anne cheered as her teammate "took off," in a new definition of the term.
It resembled a duck walk.
Anne was next, and she fell half way, recovered, and still managed a time of 20.34 seconds. Ruth came in at 13 seconds flat, and Morgan was in at 20.38.
"I guess I'm a Yooper at heart," said Anne.
She did much better in the powdered snow, recording a time of 14.16 seconds. Ruth blazed a 12.63, and Morgan had a 15.28.
All were pleased with their efforts but were looking forward to returning to their statue-building.
"We have a good start to our statue," Anne said. "It's between the Rozsa and the highway."
After flirting with sunshine, the clouds returned and the wind picked up. The snowflakes increased in size and intensity, too.
Now, different groups of students emerged, strapped on a ski and a snowshoe, and tried something crazy to kick off their Winter Carnival.
Michigan Technological University is a public research university, home to more than 7,000 students from 60 countries. Founded in 1885, the University offers more than 120 undergraduate and graduate degree programs in science and technology, engineering, forestry, business and economics, health professions, humanities, mathematics, and social sciences. Our campus in Michigan's Upper Peninsula overlooks the Keweenaw Waterway and is just a few miles from Lake Superior.