National Night Out a Hit at Daniell Heights
By Marcia Goodrich | Published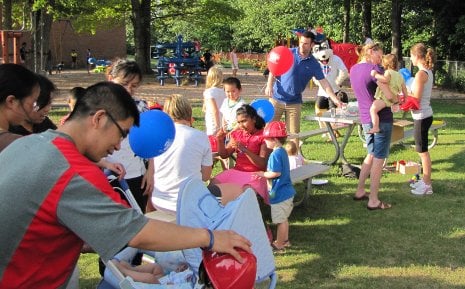 Daniell Heights residents celebrated National Night Out Aug. 3, getting acquainted with their local emergency responders and enjoying a barbecue, music, kids' games and face painting.
The event is sponsored by National Association of Town Watch, a coalition of citizens, law enforcement agencies and community organizations. Law enforcement agencies across the country host these events on this date to promote crime prevention and positive community involvement with emergency first responders.
The Department of Public Safety and Police Services organized National Night out at Michigan Tech with Housing and Residential Life. Approximately 150 residents came out to the playground to enjoy the festivities. The highlight of the night was a visit from Blizzard T. Husky and McGruff the Crime Dog.
Michigan Tech police, the Houghton Fire Department and Mercy Ambulance were all on hand to give folks a close-up look at a police car, fire truck and ambulance, answer questions and distribute free items.
By all accounts, the event was a huge success, and plans are already being made for next year's National Night Out celebration.
Michigan Technological University is a public research university, home to more than 7,000 students from 54 countries. Founded in 1885, the University offers more than 120 undergraduate and graduate degree programs in science and technology, engineering, forestry, business and economics, health professions, humanities, mathematics, and social sciences. Our campus in Michigan's Upper Peninsula overlooks the Keweenaw Waterway and is just a few miles from Lake Superior.