Celebrating O-Week: New Students Learn about Life at Tech
By Danny Messinger | Published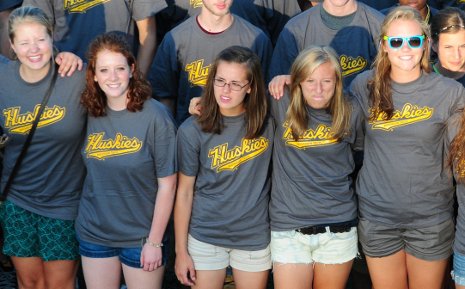 It's called O-Week, but O stands for Orientation--definitely not Ordinary.
All last week, new students attended information sessions geared toward their college success. With topics like online safety, student health and athletics being covered, new students are able to quickly learn all about what life at Tech is like.

During a session called Campus Computing: From Free Speech to Facebook, for example, students heard attorney C.L. Lindsay, executive director of the Coalition for Student and Academic Rights, talk about his experiences working with students for the past 12 years. Lindsay said that he now helps 10,000 students per year with their legal problems at no charge.
"The Campus Computing lecture was my favorite event of the week," said first-year student Rebecka Fugate. "It was really funny, but also very informative. I learned a lot about what to do and what not to do when I'm online at Tech."
Lindsay's main message to incoming students at Michigan Tech was to always think about the repercussions of your decisions while online.
"We alter our expectations and ethics when we're online, and I really want that to change," Lindsay said. "Students should think of the offline equivalent of their actions. If you can get in trouble for it offline, you can probably get in trouble for it online too."

Other Orientation week events included the annual crowd-pleasing 500-foot-long banana split, Vegas Night and Schoolyard Olympics. But most students say the best and most memorable part of the week is the new friendships.
"So far, I've really liked meeting so many new people," said first-year student Michael Way. "The atmosphere in the residence halls is really friendly. We haven't gone to bed before 2 a.m. yet—there's always something fun to do."
New transfer student Matt Brechting agrees. "Everybody here is so open and willing to meet people… it's really great how nice everyone is here."
Michigan Technological University is a public research university, home to more than 7,000 students from 60 countries. Founded in 1885, the University offers more than 120 undergraduate and graduate degree programs in science and technology, engineering, forestry, business and economics, health professions, humanities, mathematics, and social sciences. Our campus in Michigan's Upper Peninsula overlooks the Keweenaw Waterway and is just a few miles from Lake Superior.