Wood Boiler, Medical Measuring Device, Biochemical Breakthrough: 2010 Undergraduate Expo Winners Named
By Jennifer Donovan | Published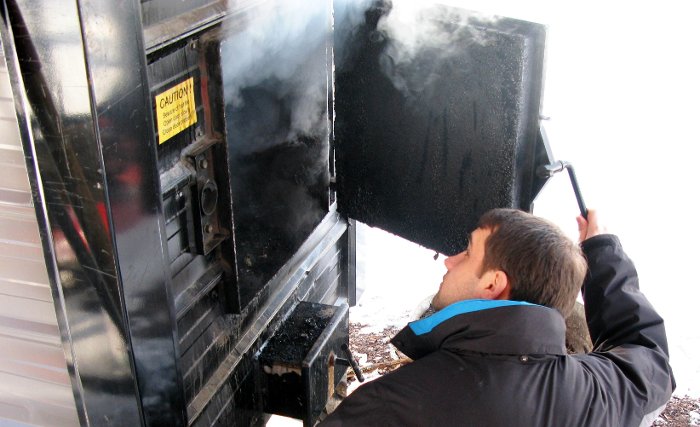 The Consumer Product Manufacturing Enterprise took first place and a $300 prize in the Enterprise category at the 2010 Undergraduate Research Expo at Michigan Tech last Thursday. They designed a more efficient, lower-emission wood boiler for small business and residential users.
CPM students plan to investigate the patentability of their new wood-boiler configuration, construct a prototype and analyze the potential financial benefits to the consumer, said advisor Tony Rogers, an associate professor of chemical engineering. A local business is showing "significant interest" in the project, Rogers added.
First place in the Senior Design category went to a team of biomedical engineering students including Danielle Aerts, Jon Congdon, Katie Elicerio, Matt Johnson and Justine Wiles. They won $150 for designing an instrument that can measure the time it takes to refill a capillary bed after the blood has been depleted, useful in measuring the dehydration level of a patient.
Robert Danish of the University of Texas Health Science Center at San Antonio hopes to use the instrument to more accurately assess dehydration levels in pediatric patients with diabetes, said Michael Neuman, chair of biomedical engineering and advisor to the Senior Design team.
Placing first in Undergraduate Research was an organic chemistry project that found a way to use water as a solvent to prepare a previously difficult-to-obtain molecule that is essential to creating polyamines, which are widely used as chemical linkers in many areas of chemistry.
Student researchers, who won $100 for their poster presentation, were Kyrie Pappas (Biochemistry and Molecular Biology) and Xiang Zhang (Organic Chemistry). Their advisor was Assistant Professor of Chemistry Shiyue Fang.
More than 400 teams participated in the 10th annual Undergraduate Research Expo.
Other awards included:
Enterprise
* Second place--Blue Marble Security ($150)
Project: a wildlife camera to monitor ground nesting birds
Team leaders: Josh Ericson (ECE) and Dave Thunes (ME-EM)
Advisors: Glen Archer (ECE) and graduate student Amber Roth (SFRES)
* Third place--International Business Ventures ($100)
Project: Interdisciplinary development of low-cost biomedical products
Team leaders: Josh Floyd (SBE) and Danielle Linna (SBE)
Advisors: Robert Warrington, Institute for Global Leadership and Entrepreneurship; Anne Warrington (SBE), Michael Neuman (Biomedical Engineering) and Edwar Romero (ME-EM)
Senior Design
* Second place--Tailings Slope Sustainment System ($100)
Project: Modifying a tailings discharge system for Cliffs Technology Group, to increase the slope of the tailings beach during periods of low iron-ore production.
Team members: Jim Boex, Tyler Bushelle, Dave Flessert, Jake Gatien, Brian Skauge, Nate Thomas, all ME-EM.
Advisor: Mike LaCourt (ME-EM), research engineer/scientist
* Third place (tied - $75)--Portable Trap Thrower and Hand Washing Detector
Project: design and build a portable trap thrower that two people can maneuver, that has little or no downtime during shooting season, that survives extreme weather and that can launch two cases of birds within a specified repeatable angle.
Team members: Sam Handschke, Kevin Moran, Tim Olson, Ryan Szpara and Ryan Ward, all ME-EM.
Advisor: Professor Chris Passerello (ME-EM)
Project: Hand washing detector--design a simple instrument that can detect and record how many times a clinician washes his or her hands throughout the day
Team members: Beth Geerer, David Heiden, Jenna Joestgen, Liz Pietela and Sam Wojda, all Biomedical Engineering.
Advisor: Associate Professor Seth Donahue (Biomedical Engineering)
* Honorable mention ($50)
Biodegradable Stent Simulation
Team Members: Jake Edick (MSE), Nikki Long (MSE), Donisha Das (Biomedical Engineering), Justine Farina (Biomedical Engineering), Dan Pierson (Biomedical Engineering) and Jonathon Zuidema (Biomedical Engineering).
Advisors: Associate Professor Jaroslaw Drelich (MSE) and Assistant Professor Jeremy Goldman (Biomedical Engineering)
Carbon Dioxide Sequestration from Steelmaking Exhaust
Team Members: Ken Brooks, Brett Anderson, Ben Hutton, Jason Sallgren, Reuben Robie, Steve Klimowicz and Nate Wilkie, all MSE.
Advisor: Professor Stephen Hackney (MSE)
Quenching of Strip Steel
Team Members: Donald Wagle (MSE) and Nick Johnson (MSE)
Advisors: Assistant Professor Paul Sanders (MSE) and Chair Mark Plichta (MSE).
Undergraduate Research
* Second place ($75)--Testing and Refining Rehydroxylation Ceramic Dating
Project: Testing and Refining a new dating tool for archeology
Student researchers: Patrick Bowen (MSE) and Helen Ranck (MSE) and Jessica Beck, (Biological Sciences)
Advisors: Associate Professor Timothy Scarlett (SS) and Associate Professor Jaroslaw Drelich (MSE)
*Third place ($50)--Comparison of On-Ice and Off-Ice Graded Exercise Testing in Collegiate Hockey Players
Project: Comparing the maximum heart rate, aerobic capacity and lactic acid threshold of college hockey players during on-ice hockey skating and off-ice exercise.
Student researcher: Angela Guisfredi (Exercise Science and Biological Sciences)
Advisor: Chair Jason Carter (Exercise Science, Health and Physical Education)
Michigan Technological University is a public research university, home to more than 7,000 students from 54 countries. Founded in 1885, the University offers more than 120 undergraduate and graduate degree programs in science and technology, engineering, forestry, business and economics, health professions, humanities, mathematics, and social sciences. Our campus in Michigan's Upper Peninsula overlooks the Keweenaw Waterway and is just a few miles from Lake Superior.