Undergraduate Expo: Two Student Teams Work on Shotgun Shooting Sports
By John Gagnon | Published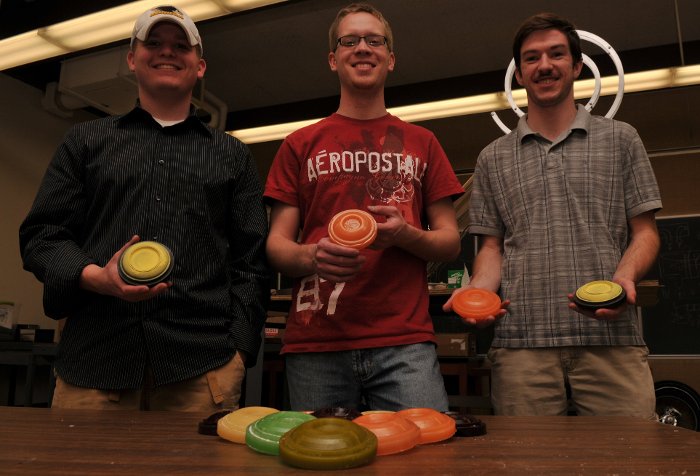 At the behest of Professor Chris Passerello (ME-EM), a member of the Portage Lake Sportsmen's Club, two senior design teams from Michigan Technological University, all mechanical engineering students, have tackled the sport that involves a shooter, a shotgun, and a saucer-sized clay pigeon that looks like a Frisbee. One group has fashioned a biodegradable pigeon to replace the clay; another has made a portable pigeon-launcher. Both came up with something unique and are investigating patents.
The biodegradable pigeon
Four students have their sights set on replacing the clay pigeons that are routinely used for the sport. Clay pigeons are made of tar, pitch, and limestone. They are not biodegradable, and their containers have a label that says they can be harmful--for instance, if they are eaten by hogs. The students have devised a pigeon that is made of three corn-based ingredients and is biodegradable, as well as non-toxic to animals.
The makeup of the material is secret, but the results are clear.
"Our pigeon is better and safer than the clays that are out there now," says Tyler Hendrickson, a team member whose advisor is Charles Margraves, also of ME-EM.
The students started on the project in fall 2009 with theoretical calculations and computer modeling. They investigated a wide array of materials, mixtures, concentrations and processes. Once they determined their material, they experimented with compressing it, baking it, microwaving it—"any way to make materials solid."
They had to meet standards and dimensions set forth by a national skeet shooting association. The product is suitable both for competition on the range and recreation in the backyard.
"They fly nicely," another student, Simon Dezelski, says.
Besides being toxic, there is another drawback of the traditional clay pigeon: the shot sometimes goes through it without breaking the pigeon. A mere one or two pellets break the students' new version. "It has to break, but you have to make sure it doesn't break when it's launched," Hendrickson says.
All of the ingredients for their pigeons can be found in a grocery store.The process lends itself to high production and large volumes, and it is affordable. Competition clay pigeons cost $10 for 90; the new pigeon costs $12 or $13 for 90.
"It has taken us long and far," Hendrickson says of the endeavor. "The numbers told us it would work, but having it actually work is pretty cool."
The portable pigeon thrower
A pigeon must be propelled by a hurling device. As part of their senior design project, five Tech students have designed and made a portable trap thrower--a project ambitious from the outset. Kevin Moran says, "Our idea was, 'go big or go home.' We wanted to wow everybody with the world's coolest thrower. "It was, in a sense, a long shot. "We had high expectations and wanted to live up to that."
The thrower weighs 150 pounds and can be carted around in a pickup truck; it fits, waist-high, on a four-by-four-foot pallet; it can be loaded with 180 pigeons; it fires every three seconds; and it will sling a pigeon 60 yards at 60 miles per hour. "It's rugged," "Ryan Szpara says. "It belongs on a battleship. It'll outlive a person."
It's an electromechanical device; not driven by computer. Made of stainless steel, aluminum and brass--with motor and electronics waterproofed--it can sit outside year-round. "You could put it in the lake for a year and pull it out, and it would still be shiny and work," says Szpara..
The students didn't copy any other design. Except for bolts, nuts, springs and motors, they designed and machined every part. Moran, for instance, "reverse engineered" the throwing arm based on the design of the hurling "basket" used in jai alai.
All five students pitched in with everything: thinking, modeling and machining; building and assembly; paperwork and organization, although the latter really was the purview of Sam Handschke. "Without Sam, we'd still be lost in the machine shop," Szpara says.
The Department of Mechanical Engineering-Engineering Mechanics funded the project with a $3,000 grant. The team stayed under budget, but, counting donated materials and shop time (Moran worked in his father's fabrication shop), they figure the device cost $24,000 to design and build.
Moran says he is "no big fan of math and theory" and likes to get his hands dirty. He has put in 340 hours over seven months on the project. "I've had no life," he admits. He logged 96 hours of milling in his father's shop alone over spring break. "Instead of being on a warm beach," he says, "I was in a dark machine shop. Stay up late. Get up early."
All of the students were resolute. "Failure was not an option," Moran says. Now the project is down to "little adjustments."
"We all cared about the project. That's why it came out well," Handschke says.
Two other members of the trap thrower team are ME-EM seniors Tim Olson and Ryan Ward.
The team members are all seniors. Moran has had so much fun he's afraid he is going to be "bummed" when he graduates. "I should flunk my art class so I can't leave."
He has found purpose. "Take the initiative to go above what you think you can do. It can happen. Our generation has this notion of 'it's who you know.' I want to become someone to know."
Michigan Technological University is a public research university, home to more than 7,000 students from 60 countries. Founded in 1885, the University offers more than 120 undergraduate and graduate degree programs in science and technology, engineering, forestry, business and economics, health professions, humanities, mathematics, and social sciences. Our campus in Michigan's Upper Peninsula overlooks the Keweenaw Waterway and is just a few miles from Lake Superior.