Tech Team Wins National Honorable Mention for Improved Pit Toilet
By Jennifer Donovan | Published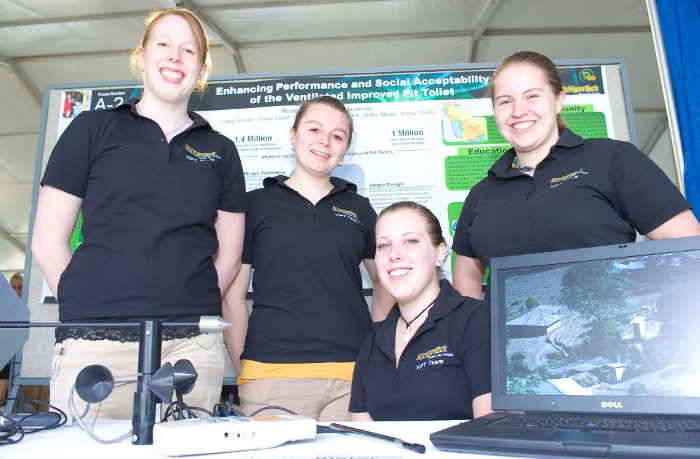 We tend to take flush toilets for granted. We see them in our homes, our schools, our workplaces and our entertainment sites, and one is rarely far away when we need it. Water-guzzling flush toilets have without a doubt improved sanitation for us in the United States. However, the humble pit latrine could be an important piece in the puzzle of improving sanitation worldwide.
A Michigan Tech senior design team has built a better pit toilet, one with improved ventilation, odor control and user acceptability. For Earth Day, they loaded it up and hauled it to the National Sustainability Design Expo on the Mall in Washington, D.C., where they won an honorable mention in the US Environmental Protection Agency's P3 (People, Prosperity and the Planet) Student Design Competition.
The interdisciplinary team previously won a $10,000 grant from the EPA for their pit toilet proposal and spent the year designing and building a model. More than 100 teams applied, and the EPA chose 42, who were invited to exhibit their inventions at the sixth annual Sustainability Expo April 23-25 in the nation's capital.
This is the second time in the P3 competition's six-year run that a team from Michigan Tech has been invited to participate in the Sustainability Expo.
"The P3 competition is an exciting event on the national stage. It's an honor to participate in it, and I'm looking forward to learning about what other universities are doing, as well as the opportunity for our students to showcase their accomplishments," said advisor David Watkins, associate professor of civil and environmental engineering at Michigan Tech.
The team's project builds on two earlier Michigan Tech research projects: an analysis of the lack of clean water and adequate sanitation, published in 2008 in the Environmental Science and Technology journal, and an evaluation of ventilated pit toilets in Ghana, published in 2009 in the journal Waterlines.
To help the students understand the conditions they were designing for, as well as what the local residents wanted, the team worked closely with Michigan Tech Peace Corps Master's International program volunteers and Etta Projects, a nonprofit organization that partners with local communities in Bolivia to find sustainable solutions. "Most families there have ordinary pit latrines that flood during the rainy season, contaminating the water sources," said Cara Hanson, an environmental engineering student.
The students designed a pit toilet with airflow and ventilation in mind. They built a scale model near the Student Development Complex on the Michigan Tech campus. They monitored it throughout the year, collecting data on wind speed, temperature, air pressure and airflow through the latrine, and used the information to modify their design into a structure that would maximize airflow through the mesh-covered ventilation pipes while minimizing odor. "It also keeps flies away, which reduces the spread of disease," Hanson noted.
Other team members include Craig Gossen (mechanical engineering), Krissy Guzak (environmental engineering), Kim Landick (environmental engineering), Stefan Marek (mechanical engineering) and Ashley Thode (civil engineering).
"I enjoyed incorporating many components of my education into one project," said Thode. "It was cool watching the research, data, literature, interviews, business plans, and cultural understanding blend into one successful project."
Faculty advisors in addition to Watkins are Kurt Paterson, assistant professor of civil and environmental engineering, and Donna Michalek, associate professor of mechanical engineering-engineering mechanics.
Michigan Tech's pit toilet team hopes to come home from Washington with $75,000 to implement a sanitation project in Bolivia that builds on this project, but whether they do or don't, work on the project will continue through the University's chapter of Engineers Without Borders.
Michigan Technological University is a public research university, home to more than 7,000 students from 54 countries. Founded in 1885, the University offers more than 120 undergraduate and graduate degree programs in science and technology, engineering, forestry, business and economics, health professions, humanities, mathematics, and social sciences. Our campus in Michigan's Upper Peninsula overlooks the Keweenaw Waterway and is just a few miles from Lake Superior.