Michigan Promise and Competitive Scholarships under the Budget Knife
By Jennifer Donovan | Published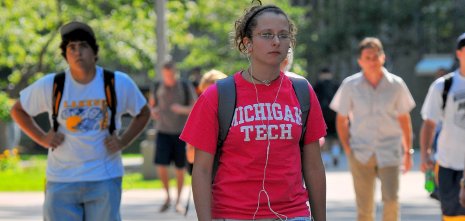 As part of the ongoing budget strife in Michigan, the Michigan Promise and Competitive Scholarships were cut Wednesday and restored Thursday. The debate will be ongoing until the budget is voted on next Tuesday, September 29. If these programs are eliminated, it will reduce approximately $3 million in funding for more than 1,800 Michigan Tech students. Since 2003, the Michigan Legislature has cut higher education funding by 27 percent. This cut continues to reflect the state's lack of support for higher education at a time in our state's history when education is more important than ever.
To express your concern, click on the links below to let your legislators, key lawmakers around the state and Governor Granholm know that you want the state to keep its promise to our students and that you are opposed to the elimination of these programs.
Find your State Representative http://house.michigan.gov/find_a_rep.asp
Find your State Senator http://www.senate.mi.gov/FindYourSenator/michiganfys.asp
Governor Granholm http://www.michigan.gov/gov/0,1607,7-168-21995---,00.html
Presidents Council, State Universities of Michigan http://www.michiganpromisescholarship.com
Michigan Technological University is a public research university, home to more than 7,000 students from 54 countries. Founded in 1885, the University offers more than 120 undergraduate and graduate degree programs in science and technology, engineering, forestry, business and economics, health professions, humanities, mathematics, and social sciences. Our campus in Michigan's Upper Peninsula overlooks the Keweenaw Waterway and is just a few miles from Lake Superior.