Homecoming 2009: More Fun than a Castle of Mashed Potatoes
By Marcia Goodrich | Published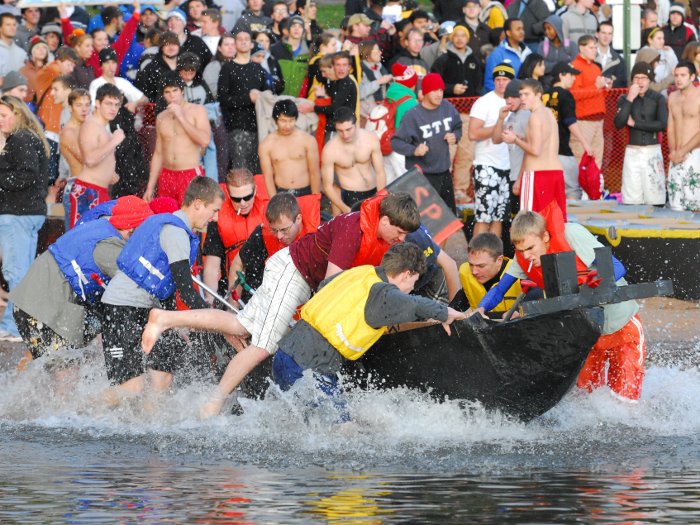 Michigan Tech's 2009 Homecoming features three hockey games, two football games (one NCAA, one not), a parade, alumni broomball, the traditional hilarity involving cardboard boats, and lots more. Special homecoming menus will be served throughout the week in the residence hall dining areas and in the Keweenaw Commons, courtesy of Dining Services.
Homecoming's first face-off is set for 7:07 p.m. Saturday, Oct. 3, at the MacInness Student Ice Arena, when the Hockey Huskies go up against Ryerson, of Toronto. The Homecoming Queen's court will be announced after the second period.
On Sunday, Oct, 4, student groups will be decorating windows at the Rozsa Center from 2 to 5 p.m.
On Monday, Oct. 5, root beer kegs will be set up in front of Fisher Hall and the Memorial Union. The powderpuff football game kickoff is at 6 p.m. at Sherman Field.
Tuesday, Oct. 6, is Black Spirit Day (Gold Day is later). The window decorations will be judged, and viewers' choice voting begins at 8 a.m. at the Homecoming website. Middle school students are invited to come to the SDC Multipurpose Room at 7 p.m. to play games with Michigan Tech's student-athletes in Take on a Husky Night.
From 3 to 7 p.m. Wednesday, Oct. 7, students will participate in a community service project with the Little Huskies Child Development Center.
Thursday, Oct. 8, is Gold Spirit Day and features a tug-of-war and sand-castle building from 5 to 7 p.m. at Prince's Point and a bonfire at 9 p.m. In the event of rain, the party relocates to the SDC Multipurpose Room, where mashed potatoes will substitute for the sand.
Classes are cancelled at 3 p.m. Friday, Oct. 9, for Homecoming Recess. The Homecoming Parade, featuring the usual rag-tag assembly of hobos and broken-down cars, starts early this year, at 4 p.m. Because of construction in downtown Houghton, it will run the length of campus, from Lot 1, near the Alumni House, to Lot 9, near the Rozsa Center. After the parade, a pep rally will be held in Lot 9. Cardboard boat races begin at 5:30 p.m. at the Hancock Beach, accompanied by a cookout sponsored by Alumni Relations and the Library Restaurant. Lastly, the hockey game against Northern Michigan University begins at 7:07 p.m. at the Student Ice Arena.
On Saturday, Oct. 10, Michigan Tech football will go up against Findlay at Sherman Field at 1 p.m. During halftime, the homecoming queen will be crowned and the winning student organizations announced. From 5 to 9 p.m., the Alumni Association Broomball Invitational will be held at the MacInness Student Ice Arena in cooperation with the Inter-Residence Hall Council's Broomball Committee.
Michigan Technological University is a public research university, home to more than 7,000 students from 54 countries. Founded in 1885, the University offers more than 120 undergraduate and graduate degree programs in science and technology, engineering, forestry, business and economics, health professions, humanities, mathematics, and social sciences. Our campus in Michigan's Upper Peninsula overlooks the Keweenaw Waterway and is just a few miles from Lake Superior.