Glime Honored for Distinguished Service
By Marcia Goodrich | Published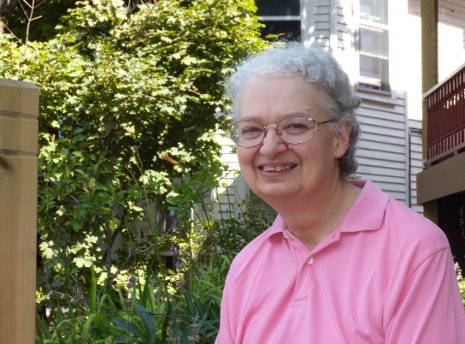 Janice Glime, known for her longtime dedication to the University Senate and to student success, is one of two Michigan Tech faculty members to be honored with the Distinguished Service Award this year. Glime, a professor emerita of biological sciences, will receive the award and a $2,500 prize, as will Alex Mayer, a professor in both the civil and environmental engineering and the geological and mining engineering and sciences departments.
Glime was senate vice president in 1994-95 and served a total of seven years as secretary, from 1995-96 to 1998-99 and from 2004-05 to 2007-08. "As senate secretary, Janice has not only continued her marvelously precise yet concise minutes, she has also continued her leadership in critical issues," particularly in the long-standing effort to develop procedures for updating department charters, said Senate President Martha Sloan in nominating Glime for the service award. The process has involved considerable negotiation among faculty, chairs, deans and administrators. "She has exhibited a high degree of diplomacy in forging a consensus among these disparate interests," said Sloan.
John Adler, who chaired the Department of Biological Sciences, called Glime's service to the senate and her department "exceptional."
"Her service in the senate has fostered a broader and more in-depth level of communication between the senate and its constituents as well as the senate and the administration," he said. "This has provided a greater sense of engagement by faculty and staff among themselves and with the administration."
"The University has changed as a result of Dr. Janice Glime's service," Adler said. "It has become a more cohesive, discoursive entity at both the faculty/administrative and the student/faculty levels."
Glime has been bringing people together for years. She was a key player in the effort to add nonunion staff to the senate constituency in 1996. "Of all the things I've done, that's what I'm most pleased with," she said. It was an uphill battle at first; a majority of the members of the Senate Constitution Committee opposed allowing nonfaculty members to be represented in the senate. Glime felt otherwise. Without staff representation, the senate was putting forth measures only to find out later they were unworkable or extremely costly. That doesn't happen anymore, she said. "Our staff can be so helpful," she said. "And they bring a different perspective that's very beneficial."
Glime was also cited for her efforts on behalf of students outside the classroom. She founded the Biology Learning Center. "The students who work under her direction and coached in the Biology Learning Center refer to her as 'Janice,' as do many of her students," said Bill Kennedy, director of the Center for Teaching and Learning, in nominating Glime. "They call her by her first name, not out of disrespect, but because they can sense her genuine concern for them as students and as people. . . . Universally, they speak of her with great reverence and affection. They recognize her as the inspiration to do more than what is required in all facets of their personal and professional lives."
Margaret Gale, dean of forest resources and environmental science, recognized Glime's efforts to advise students. "She has served on an extremely large number of our graduate committees," Gale said. "And she has made undergraduate and graduate students' education (and lives) richer by her selfless approach to advising."
Sloan agreed. "I have frequently noticed her interactions with students and have observed the tail ends of her advising sessions with them, which to me seem to go far beyond the norm in her adaptation to her students' need and her degree of concern for their lifelong learning and careers."
In addition, said Adler, "She provides service above and beyond the call of duty in assisting international students for whom English is a second language. Her dedication has led to many students being retained at Michigan Tech rather than dropping out or going elsewhere."
Glime found herself working with ESL students, particularly those from China, in part because of her discipline. "Biology is the worst class for ESL," she said. "It has a huge vocabulary." Gradually, she began focusing more attention on international students, and now hosts several of them in her home. "They have such interesting things to share, and their cultures are so different and exciting," she said.
In addition, working with foreign students is exceptionally rewarding. "It's a challenge, and you also feel like you are really making a difference," said Glime.
While Glime was nominated for her efforts on the University Senate and as an advisor of students, she is particularly proud of her service as president of the International Association of Bryologists and her never-ending work as author and editor of the online encyclopedia "Bryophyte Ecology." It is especially useful for bryologists in developing countries that don't have access to journals or textbooks. "I don't know how many people have come up to me and said thank you," she said.
Michigan Technological University is a public research university, home to more than 7,000 students from 60 countries. Founded in 1885, the University offers more than 120 undergraduate and graduate degree programs in science and technology, engineering, forestry, business and economics, health professions, humanities, mathematics, and social sciences. Our campus in Michigan's Upper Peninsula overlooks the Keweenaw Waterway and is just a few miles from Lake Superior.