Evangeline Moore on Life as a Harbinger of Change
By Marcia Goodrich | Published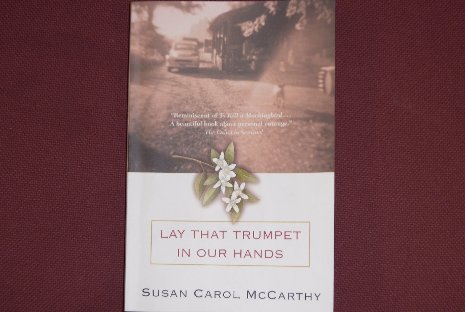 The last thing Susan Carol McCarthy did before she published "Lay That Trumpet in Our Hands" was track down Evangeline Moore. She wanted the blessing of the lone surviving daughter of Harry T. and Harriette M. Moore before publicizing the story surrounding her parents' 1951 murder by the Klan.
McCarthy's own father had known Harry T. Moore and had worked with the FBI to build a case against Florida Klan members involved in a string of terror attacks against blacks, Jews and Catholics. The spree ended with a fatal Christmas Day bombing at the Moore's house.
When Evangeline Moore read the manuscript, she approved. "She said, 'That's my daddy,'" McCarthy said. Now the daughters of two civil rights activists are friends and tour the country giving talks on McCarthy's book, which was Michigan Tech's 2009 summer reading selection.
"My father so respected Harry T. Moore," McCarthy said. "He was starting chapters of the NAACP, traveling back roads alone, surrounded by all these Klansmen . . . He paid the ultimate price, and so did Evangeline."
It always takes courage to be an agent of change, she said, and never more so than early in the US civil rights movement. "You've heard 'shoot the messenger'?" said McCarthy. "They also shoot the harbinger."
____________
Evangeline Moore, draped in dazzling white, sips her coffee with languid grace in the Library Café. "I adore this peninsula," she says of the Keweenaw. "It's absolutely glorious. An ideal place to sit and reflect."
Upon request, she reflects on her childhood and what it was like to live under constant threat.
"We knew of no other way of life," she says. "We were born into it. My father had a commitment to God and to the black race. My mother was devoted to him, and we were sheltered."
"Somehow, we had this abiding faith in God," she says. "And though we lived in frightening times, I don't remember saying, 'I am afraid.'"
As the daughters of teachers, Evangeline and her only sibling, Peaches, were not allowed to fraternize with the other children. Their social life was thus confined to family, and Evangeline in particular bonded with her father. The outgoing, gregarious one in the family, Evangeline was assigned to read her father's speeches at NAACP chapters throughout the state. "I had to memorize every word and stand there and talk," she said. "There was work to be done, and I had to keep going."
Evangeline was not at home on Dec. 25, 1951, when her family home was bombed. She arrived a day late to discover that dynamite had been set off under her parents' bedroom. Her sole consolation was that her sister had survived unhurt, largely because Peaches had slept in Evangeline's bed that night and not in her own for safety's sake. Peaches' bed was beneath a window that shattered in the blast and showered shards of glass onto the vacant mattress.
Neither the death of her parents nor anything in the intervening years has shaken her faith, Evangeline says, "but for a very long time after my sister's death [over 30 years ago], I was angry with God. But now I understand, and that's a great comfort."
Indeed, she feels blessed, "especially because of the relationship between my father and me."
As for Harriette M. Moore, whom she also dearly loved, "I know that as long as I follow my mother's teachings, she will rest in peace. I live by my parents' instructions, as if I were a child."
In an Aug. 26 discussion session on "Lay That Trumpet in Our Hands," Evangeline found white Michigan Tech students eager to learn about prejudice from the African American viewpoint. "No way in God's green earth could they understand hatred and bigotry," she says. "But they have compassion, and they are interested in understanding as best they can."
"You can change laws, but that doesn't change the heart or the person," she says. "We're now in a healing process, the black and white races," untangling a history of discrimination inherited from our ancestors. Those ancestors, she says, "should let us alone and let us be friends."
Michigan Technological University is a public research university, home to more than 7,000 students from 60 countries. Founded in 1885, the University offers more than 120 undergraduate and graduate degree programs in science and technology, engineering, forestry, business and economics, health professions, humanities, mathematics, and social sciences. Our campus in Michigan's Upper Peninsula overlooks the Keweenaw Waterway and is just a few miles from Lake Superior.