Dancing with Diversity
By John Gagnon | Published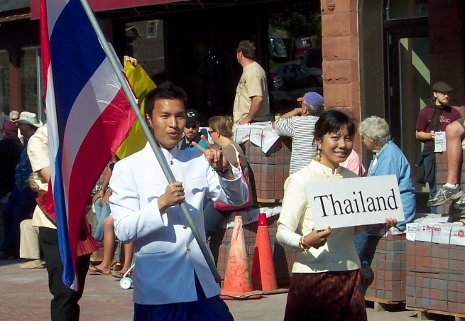 Flamboyant twirling flags, colorful ensembles, hand clapping, hip shaking, people dressed like rainbows. Dance has been called one of the greatest forms of communication, and it told a lot at Saturday's Parade of Nations and Multicultural Festival.
"It's infectious," said one spectator, a Houghton woman bedecked in Michigan Tech garb and shaking a multi-colored pompom. "So many people, so much support—it's impossible not to get caught up in the enthusiasm of it all."
This celebration, with its theme of "Dancing with Diversity," began with a parade that was not at all a quick affair. It halted often along the nearly two-mile-long route to allow dancers to perform their most dramatic moves for applauding onlookers crushed onto the streets of downtown Hancock and Houghton. Children gathered along the street curbs, wide-eyed and drinking in the excitement.
This year's parade and festival featured people from Canada to Colombia, Thailand to Turkey—all awash in the vibrant colors of their native lands. Brazilian dancers wore vivid yellow and whirled flags to a heavy, passionate beat. Members of Tech's GLBTA student organization, Keweenaw Pride, sang and jived to the strains of "Dancing Queen"—disco ball included. A man from Thailand marched silently, raising two fingers in a sign of peace.
The beribboned Alessia Uboni, of Trieste, Italy, hit town four weeks ago and is a new doctoral student in SFRES. At the food festival in Dee Stadium, she cooked up a jam tart called crostata, a sweet roll called "chocolate salami," and a dessert laced with cocoa called tiramisu. She fit right in with the spirit of things. "Our culture is mainly food," she said. "Long meals are a big part of the day."
Cecilia Miranda, who has formed a song-and-dance group called Boliviamanta, had a bunch of ebullient youngsters gathered around her. She organized the group to give youngsters a chance to "do something other than games and drugs."
Through song and dance, she and her charges show off Bolivian culture and folklore. "We're foreigners here," she says, "and we want to be part of this country. But we want to keep a taste of our own culture, too, so we don't forget our roots."
Alice Brunk represented the KBIC's Youth Programs in Baraga. Her charges wore dazzling regalia and danced like butterflies. "We love to have the kids involved," she said. "Share their culture."
'It's more than dancing," she added. "It's a way of life. Teach children to be proud of who they are and where they come from."
We asked Brunk to name one thing she wants people to know about native culture.
"Frybread," one of her youngsters chimed in.
Brunk laughed and then got serious: "Teaching honor and respect for all living beings."
Les Cook, of student affairs, summed up the celebration: "It's incredible—the energy and enthusiasm. We're lucky to have such a variety of people from all backgrounds. It's many cultures emerging as one. We'll turn them all into yoopers."
• • • • •
The doings attracted Vandana Jhingan, a journalist from Chicago. She works for TV Asia, which serves south Asia.
She met with Indian students the evening before the parade and festival. "I can feel the comfort," she said. "They're so happy with the school. You don't let them feel homesick. It's a second home. They feel that it was not a bad decision to come here."
People in Asia are interested in what goes on in Houghton, Michigan? "The world is a small village now," Jhingan said.
She wears a bindi on her forehead—eight little stones arranged vertically. In Indian culture, it used to signify a married woman. "Now it's the fashion," she said. "It matches with my dress."
Michigan Technological University is a public research university, home to more than 7,000 students from 60 countries. Founded in 1885, the University offers more than 120 undergraduate and graduate degree programs in science and technology, engineering, forestry, business and economics, health professions, humanities, mathematics, and social sciences. Our campus in Michigan's Upper Peninsula overlooks the Keweenaw Waterway and is just a few miles from Lake Superior.