Career Fair Is All About Prospects
By John Gagnon | Published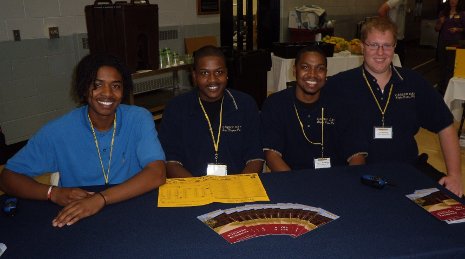 The Student Development Complex at Michigan Tech was choked with people this week for the fall Career Fair, as students tackled the job of finding a job. Enlivened and expectant, they stood in line to try to stand out in a crowd and catch the attention of the companies with the opportunities.
Those companies were looking for more than degrees: communication skills, eagerness, hands-on education, research experience, even passion. "Passion is a big part of our culture," said Anthony Komarek, an alumnus in mechanical engineering who works for Polaris Industries in Medina, Minn.
Amid the buzz of activity and the prospect of work, there was evidence of a fair amount of confidence in the economy.
Carol Hogsett of Los Alamos National Laboratory is a regular at the fall fair. She especially likes students in the computer network and system administration program. The laboratory had a hiring freeze for a time, but now is hiring again, albeit in a way that she calls "strategic." She was looking for 10 students for internships.
Angela Corbine of Bucyrus in South Milwaukee said the firm, which makes mining equipment, has five full-time engineering positions and nine co-ops to fill. Its hiring had ebbed but not stalled. "It was down a little bit," she said, "because our customers were nervous. That's changing already. Business is really good."
Uniformly, the people we talked to said Tech's reputation in industry is first-rate.
Anthony Corrie was one such champion. He works in the tax and accounting division of Thomson Reuters in Dexter, Mich., and was looking for five full-time computer programmers and six students for internships. This is the first time since 1996 that the company has participated in a Tech career fair. Corrie, an alumnus, convinced the firm's leadership to return. Several Tech alumni work for the firm in Dexter and enjoy "great respect" for their abilities, Corrie said. One Tech alumnus, he pointed out, is singlehandedly responsible for $30 to $40 million in new annual revenue. "That's how well Tech prepares you," Corrie said. "That's why I said we had to come back here and get more people like that."
Gordon Erdelean, a 1997 graduate in chemical engineering who works for BASF in Southfield, said his firm relies heavily on Tech's Career Services to find employees—and not just at career fairs. BASF particularly likes Tech's online program for student applications and routinely reviews them and flags the best fits for interviews. He said Tech's career fair is one of only seven that the company visits.
"We've been coming a long time," said another regular, Richard Cottrell of Consumers Energy in Jackson. "We come to get the best power engineers that we can. Tech has one of the premier power programs in the region, and we've had great success with Michigan Tech engineers. That's why we're still here." Business has not been good, but the firm is hiring, thanks to the aging baby boomers. "Retirement is coming for them," he said. "We need to hire people, and get them in the system and trained. We can't make them instant engineers."
Meanwhile, students were showing their best.
Andrew Heikkinen, a junior in materials science and engineering, was looking for a co-op or an internship. "I have to learn some more skills," he said. He was buoyed by the Career Services website that said 38 companies were looking for materials engineers. He considers himself a savvy young man who will make a good impression. "I'm a smart kid," he said. "I can talk."
Matthew Alward, a senior in civil engineering from Fenton, Mich., will be gradating in May and is looking for anything in his field. Eventually, he wants to work in alternative energy, but says, "It's not the time to be picky." His approach to this endeavor: "Be myself and rely on Tech's reputation." He's hoping an internship and undergraduate research will give him an edge.

Times are tough for Megan Miller, of the class of '09, who earned a bachelor's degree in mathematics and hasn't found a job yet. She and her fiancé, a Tech civil engineering graduate, traveled all the way from Bozeman, Montana, to attend the fair. If they don't land jobs, they're thinking of coming back to Tech for graduate school.
Dawn Hossa, who works in human resources at Waukesha Inc. in Wisconsin, has been coming to the fair for four years. She enjoys the duty. "You get to see the future," she says of the young people poised to make their mark on the working world.
Anna Pearson is part of that future. A junior in biomedical engineering from St Joseph, Mich., she was looking for an internship for next summer. "Anything I can get," she said. This was her fifth fair. She attends all of them to learn the ropes. She had eight companies on her list to visit.
"Hopeful?" she is asked.
"You have to be," she replied.
Jim Turnquist, under whose watch the career fairs have been the biggest ever, was content with the 155 companies that showed up. There was a point this summer when he worried the number of companies participating wouldn't break 100. So, the turnout, although markedly down from 295 last year, was better than he anticipated. He senses the beginnings of an economic upturn and more opportunity for students. "It's going to get better," he said. Traditionally, the fall career fair is bigger than the February event. He suspects the winter fair will be the bigger of the two this academic year.
Michigan Technological University is a public research university, home to more than 7,000 students from 54 countries. Founded in 1885, the University offers more than 120 undergraduate and graduate degree programs in science and technology, engineering, forestry, business and economics, health professions, humanities, mathematics, and social sciences. Our campus in Michigan's Upper Peninsula overlooks the Keweenaw Waterway and is just a few miles from Lake Superior.