School of Technology Plans New Robotics Program
By John Gagnon | Published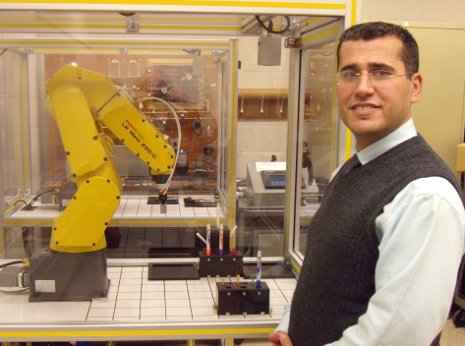 Michigan Technological University's School of Technology is partnering with industry to develop a new course in robotics and industrial automation designed to give students both industrial and University certification.
The School of Technology has purchased two robots from FANUC Robotics America, a Japanese firm with a strong presence in the US. The company, a leader in supporting robotics education, donated software and training. The market value of the package donated was $292,163. FANUC collaborates with higher education with an eye to streamlining its operations by reducing costs, improving quality and maximizing productivity.
The initiative, says interim dean Jim Frendewey, "will meet the needs of industry and strengthen the School's academic program."
Overseeing the effort is Nasser Alaraje, assistant professor and head of the School's electrical engineering technology program. "This expertise and skill set," he says, "will be a great addition and will make students more marketable."
Alaraje says the new course, which will be offered beginning in January, is not about building robots—but rather programming and operating them. Students will have the option to sit for an industrial certificate exam, with no impact on the class grade. The goal is to also create a University certificate for both graduate and undergraduate students.
The course, Real-Time Robotics Systems 4144, will be open to students from other disciplines in other schools and colleges, although initially the enrollment will be limited to 12 or 15.
Beyond the offering the course and establishing the certifications, the plans are ambitious:
• Train and certify industry professionals who would complete an online theoretical component over several months and a week of hands-on training on campus.
• Engage local middle-school and high-school teachers in robotics education.
• Offer professional development for additional in-house faculty who would be certified to instruct.
• Expand the program. (Organizers have submitted a request to the National Science Foundation for support to buy four more robots.)
For now, only Aleksandr Sergeyev, assistant professor in the electrical engineering technology program, can train and oversee the industrial certification.
This year, he spent months studying online and attended a week of training last summer at FANUC's Detroit-area facility—capped with a rigorous final exam. "It was very tough, very intensive," he says of the work, but worth it. "I believe there will be a high demand for this course," he says. "Robots are everywhere."
"These are very powerful machines and at the same time extremely precise machines," Sergeyev adds. "It's the same unit that industry uses, but smaller."
Each robot moves in six directions and has a vision system. The physics behind these educational robots is exactly the same as industrial robots that do a task repeatedly, with very high accuracy. Students will program and operate them just as they would in industry. "If students can learn to operate this robot, they can operate and program nearly any robot," Sergeyev says.
Other campus programs in robotics focus in part on design, engineering and fabrication. "We're not in the robot design or the robot building business," Frendewey says. "We're trying to turn out people who can implement this technology."
He says the school's industrial advisory board identified the need.
"This will help with recruitment," Frendewey concludes.
Should the graduate certificate materialize, it would join two others being developed: integrated geospatial technology and test engineering.
Michigan Technological University is a public research university, home to more than 7,000 students from 54 countries. Founded in 1885, the University offers more than 120 undergraduate and graduate degree programs in science and technology, engineering, forestry, business and economics, health professions, humanities, mathematics, and social sciences. Our campus in Michigan's Upper Peninsula overlooks the Keweenaw Waterway and is just a few miles from Lake Superior.