Powwow: Alumna Guides Youth, Celebrates Native Traditions
By John Gagnon | Published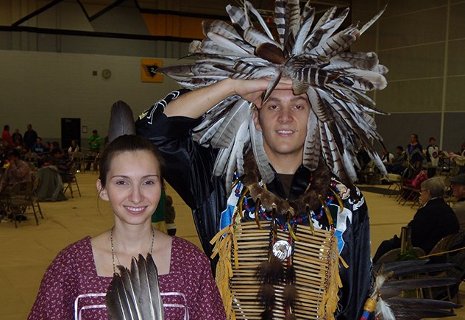 For the fourteenth year, the Spirit of the Harvest Powwow graced the Michigan Tech campus. A radiant, out-of-this-world affair, it featured regalia as colorful as the fall forest, with chanting that sounded both heartfelt and heartbreaking.
One of the lead dancers who circled the Multipurpose Gym was Jessica Koski, a Tech alumna who is now a graduate student at Yale University pursuing a master's degree in environmental management, with a focus in social ecology. Besides dancing, Koski, who spent part of her life on the L'Anse Indian Reservation and part in Rhinelander, Wisconsin, addressed local school kids on Friday as part of the Native American Speakers Forum. Her message: "Don't limit the possibilities."
Koski knew what she was talking about; many unforeseen opportunities have transformed her life. One was a research experience at NASA that encouraged indigenous youth to explore science and the environment. There, initially "intimidated" by science, she found purpose.
Koski, who is half Ojibwa, a quarter Finnish, and a quarter of other European descent, came to Tech at age 19. She hit the party scene for awhile, but she says that "a strong calling" steered her back to education and her heritage. She ended up president of the American Indian Science and Engineering Society, a good student in social sciences, and a dreamer.
At one point in her life, she wanted to simply get a job and have a family. Now, earnest and composed, she wants to be an Ojibwa leader and hopes to represent other indigenous people across the country whose communities--"lifeways, environments and sacred places"--are threatened by harmful mineral development and other incursions. She's getting started on that mission with her thesis at Yale. It will investigate the proposed sulfide mining controversy on the Yellow Dog Plains. She wants to address the issue from its environmental, social, economic and political dimensions—as well as spiritual, for the planned portal for the mine is at Eagle Rock, a place that is sacred to the Ojibwa.
She calls that kind of inquiry "tricky" because there is a debate within academia and among anthropologists about whether scientists should be advocates or simply detached observers. "I'm really struggling with that," she says.
Meanwhile, once shy about speaking up about such matters from the Native American perspective, Koski, now bold, is following what she calls her "path" in life. Her native spirit name, is "Nee-gon-e-go-quay," which means "leading woman."

"Are you a leader?" she is asked.
"I'm getting there," she says. "It's a lot of responsibility."
It's a newfound direction for her, just like her native ways. "I didn't know much growing up," she says about her native heritage. "My parents—their generation was ashamed."

After graduating from high school in Rhinelander, she studied for a year and a half at the Keweenaw Bay Ojibwa Community College in Baraga. It was her first exposure to Indian culture and values. She realized: "I should be proud of this." Now she is immersed in what she calls "a legacy of lost traditions." What does she like most about native teachings? "Respect for Mother Earth and each other," she says. "That's a big one."
While learning about her people's plight, she was angry at first, then mellowed. "I'm half white," she notes, adding, "People aren't static. We're always changing and adapting. Rather than keep complaining about it, I just wanted to learn more.
At Yale, Koski is in the School of Forestry and Environmental Studies. One of her favorite classes is Indigenous Religions and Ecology. She is the graduate assistant for the Native American Cultural Center and an advisor for Yale's American Indian Science and Engineering Society (AISES) chapter.
While at Tech and before, she had the advantage of several internships and other programs where she met people who "encouraged me and pushed me and opened up doors for me." She can't fathom how far she's come, yet she aspires to achieve more. "I'm still learning," she says.
She speaks a little of the Ojibwa language. Her favorite word is "miigwetch." It means "thank you."
She says that she delivers that message daily to the Creator by sprinkling a little tobacco on the ground each morning. In her culture, tobacco is a sacred plant. She carries it in a little beaded pouch draped around her neck. She puts the tobacco down with her left hand because it's closest to her heart.
Michigan Technological University is a public research university, home to more than 7,000 students from 60 countries. Founded in 1885, the University offers more than 120 undergraduate and graduate degree programs in science and technology, engineering, forestry, business and economics, health professions, humanities, mathematics, and social sciences. Our campus in Michigan's Upper Peninsula overlooks the Keweenaw Waterway and is just a few miles from Lake Superior.