Philanthropic Support for Michigan Tech Continues Strong
By Jennifer Donovan | Published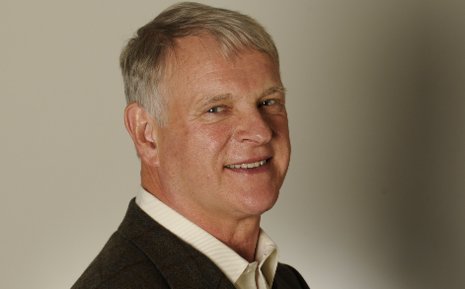 Fundraising has become a particular challenge due to economic conditions, but philanthropic support for Michigan Technological University continues to be strong, the Michigan Tech Board of Trustees heard at today's regular Board meeting on campus.
Alumnus David House presented a $1 million check to fund a third House Professorship at the University, as well as a check to do renovations to the Electrical Energy Resource Center. The new professorship will be in computer engineering. The chair of Michigan Tech's national campaign committee, House is a former Intel executive and current chairman of Brocade Communications Systems. The House Family Foundation already has endowed two professorships at the University. One is held by Tim Schulz, dean of the College of Engineering. The other will be named in conjunction with the Michigan Tech Research Institute in Ann Arbor.
Another longtime donor has also given a gift to establish a varsity women's soccer program at Michigan Tech, She and her late husband have supported numerous Tech initiatives, including the Summer Reading program, EcoCAR, the rowing team, the Outdoor Adventures program, the Peace Corps Master's International program and an endowed scholarship.
Other recent gifts include the Dyke Memorial Scholarship in computer science, in honor of the late Erick Dyke, a 1991 alumnus; the Rozsa Art Gallery, funded by the estate of 1971 alumna Eileen J. Niva; the Marshall Family Endowed Scholarship Fund for engineering students, donated by Robert, Rex and Paul Marshall; and support for an expanded and enhanced seminar room in the Minerals and Materials Engineering building, from gifts from Dr. John and Virginia Towers, Charles McArthur and several corporations. Towers and McArthur are Michigan Tech alumni.
Russell Gronevelt, chair of the Board of Trustees, called Michigan Tech "fortunate to have so many successful individuals who are willing to give so much of their time, energy and resources to help support the University. Philanthropy is becoming an increasingly important factor in Michigan Tech's future, and it's a tough time for any organization that relies on philanthropic support. Through it all, our supporters have remained loyal, and with their help, we are finding others who are generously stepping up to contribute."
The Board also gave Michigan Tech President Glenn D. Mroz high marks in his annual performance review.
"The Board is very proud of Glenn and the job that he is doing," said Chair Russell Gronevelt. "He has been able to keep the University's strategic initiatives in focus while grappling with the challenge of managing despite a shortfall in state support."
"Glenn and his administration have acted in the best interests of Michigan Tech's future, ensuring that students continue to get full value from their education," Gronevelt added.
The Board rated Mroz on 10 criteria derived from Michigan Tech's strategic plan, four University metrics—the incoming ACT scores of entering first-year students, the number of PhDs awarded, new research grants and endowment value—and current priorities.
"I am honored by the Board's expression of belief in me and our leadership team at Michigan Tech," said Mroz. "These are challenging times, and the Board's unwavering support for our strategic direction is vital and encouraging."
In other business, the Board
• Approved 2011 capital outlay project requests totaling more than $130 million, to complete phase two of the College of Sciences and Arts' Center for Integrated Learning and Information Technology (phase one was completed in 2005); renovation and expansion of Dillman Hall for the Department of Civil and Environmental Engineering; renovation of the Academic Office Building for the School of Business and Economics; and an addition to the Mechanical Engineering-Engineering Mechanics building to house a Manufacturing Research Center.
• Learned from David Reed, vice president for research, that research awards at Michigan Tech topped $53 million in fiscal year 2009, a 28 percent increase over FY2008.
• Approved emeritus rank for five retiring professors: Richard E. Brown and John G. Williams, Chemistry; John L. Lowther, Computer Science; Randall Friesinger, Humanities; and Edward Nadgorny, Physics.
• Approved granting of honorary doctorates in business to George J. Butvilas and David J. Brule, Sr. Butvilas is chair of the Michigan Tech Fund and keynote speaker at the University's December 2009 Commencement. Brule is a Michigan Tech alumnus and a former member of the University's Board of Trustees. He is president and CEO of Northern Star Industries, which he founded.
• Extended the current Capital Campaign to at least June 30, 2013, due to economic and market downturns and to the fundraising staff's continuing development of new and promising prospects.
Michigan Technological University is a public research university, home to more than 7,000 students from 60 countries. Founded in 1885, the University offers more than 120 undergraduate and graduate degree programs in science and technology, engineering, forestry, business and economics, health professions, humanities, mathematics, and social sciences. Our campus in Michigan's Upper Peninsula overlooks the Keweenaw Waterway and is just a few miles from Lake Superior.