Native American Speakers' Forum, Spirit of the Harvest Powwow Oct. 23-24
By Marcia Goodrich | Published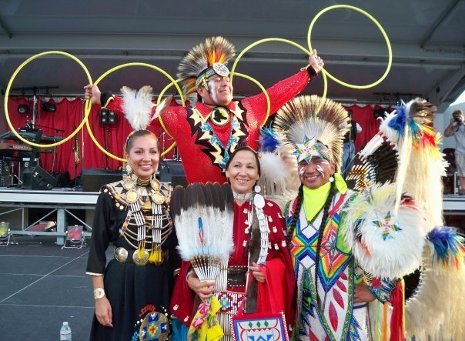 Michigan Technological University will showcase Native American culture next week at its 14th Annual Speakers' Forum Friday, Oct. 23, followed on Saturday by the Spirit of the Harvest Powwow.
In addition, the 2009 Canadian Country Music Association Female Artist of the Year, Crystal Shawanda, will give a concert Oct. 24, at 7:30 p.m. in the Rozsa Center. For more information or to buy tickets, go to the Rozsa Center website.
Speakers' Forum, 10 a.m.-2 p.m., Friday, Oct. 23, Rozsa Center
The Speaker's Forum begins at 10 a.m. with a talk by Jessica Koski, a member of the Keweenaw Bay Indian Community. She completed a BS in Social Sciences in May and is now earning a master's in environmental management at Yale University. Koski will discuss how she navigated college as a Native student.
Lowery Begay, a dazzling championship hoop dancer, will perform from 11 a.m. to noon. Begay grew up on the Navajo Reservation in New Mexico and Arizona and spent much of his time with his grandparents learning Navajo ways, which are now both his calling and his career.
Lowery has traveled all over the world and is a flutist, artist and fancy dancer, and is currently ranked fourth in the world as a hoop dancer.
Crystal Shawanda, a Canadian country music singer and member of the First Nations Ojibwe band, will give a talk beginning at 1 p.m. Born in Ontario and raised on a reservation on Manitoulin Island, Shawanda has taken the country music world by storm. Her hit single "You Can Let Go Now," made it into the top 20 on the Billboard Country Music chart.
Country Music Television documented her rise to fame in the six-part series "Crystal: Living the Dream," which aired in February 2008. She signed to RCA Records in 2007 and her debut single, "You Can Let Go," reached top 10 on the Canadian Country Singles Chart in January 2008 and four months later was released in the US.
Spirit of the Harvest Powwow Saturday, Oct. 24, noon-6 p.m.
The Spirit of the Harvest Powwow begins at noon with a Grand Entry into the Multipurpose Room at the Student Development Complex.
Featured performers will be Lawrence Williams, head male dancer; Linda Cohen, head female dancer; Robert Voakes, head youth male; Jade Chauder, head youth female; Robert Rajacic, arena director; Four Thunders, host drum; Loon Travelers, invited drums; Donald Chosa, head veteran; the Keweenaw Bay Indian Community Honor Guard; and master of ceremonies Stanley Spruce.
Championship dancer Lowery Begay will give a hoop dance and flute exhibition at 1:30 p.m. Begay contributed art used on the powwow posters, and T-shirts with his artwork will be for sale at the powwow.
The pink shawl presentation will be held at 4:30 p.m.
Native food, art and crafts will be available.
The Spirit of the Harvest Powwow and Speakers' Forum are free and open to the public and hosted by Michigan Tech and the American Indian Science and Engineering Society.
Sponsors include Michigan College/University Partnership, Multicultural Affairs, Student Life, and Institutional Diversity.
For more information, contact Lori Muhlig, 906-487-2920, muhlig@mtu.edu .
Michigan Technological University is a public research university, home to more than 7,000 students from 54 countries. Founded in 1885, the University offers more than 120 undergraduate and graduate degree programs in science and technology, engineering, forestry, business and economics, health professions, humanities, mathematics, and social sciences. Our campus in Michigan's Upper Peninsula overlooks the Keweenaw Waterway and is just a few miles from Lake Superior.