Michigan Tech EcoCAR Team Hits the Road
By Marcia Goodrich | Published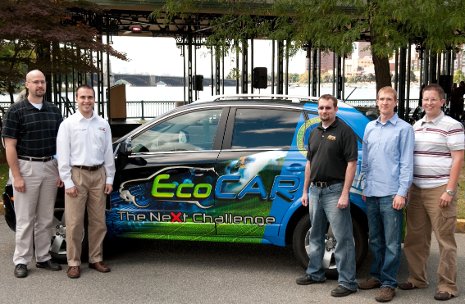 For over a year, Michigan Technological University's EcoCAR Enterprise team members have been brainstorming and building a next-generation hybrid vehicle on their computers. Now they are ready to roll.
The team has taken delivery on a 2009 Saturn Vue Hybrid, a cross-over vehicle that gets 25 mpg in the city, 34 mpg on the highway, according to EPA estimates. General Motors, a major sponsor of EcoCar, donated new Vues to Michigan Tech and the 16 other US and Canadian universities participating in the competition.
Teams participating in EcoCar, The NeXt Challenge, aim to reengineer their Vues to reduce fuel consumption and emissions while retaining the vehicle's performance and customer appeal. Ultimately, EcoCar supporters, including headline sponsors GM and the US Department of Energy, seek to inspire the next generation of scientists and engineers to secure an energy-efficient future.
"EcoCAR gives our students hands-on design and engineering experience," said the team's advisor, John Beard, an associate professor of mechanical engineering-engineering mechanics. "They've worked hard this past year, and now they are looking forward to integrating their designs into the vehicle."
First the team will conduct baseline testing on their stock Vue, said the team's outreach coordinator, Eric Joseph, an MBA student who earned a BS in Mechanical Engineering in May. "Then we'll start doing the actual physical work on the vehicle," he said. Their strategy involves installing a larger electric motor and replacing the six-cylinder engine with a displacement-on-demand eight-cylinder model. "That way, we can shut off four cylinders when we get to cruising speed," Joseph explained.
The team has only eight months to make their plans reality. Stage one of the EcoCAR Competition Finals will be held May 17-22 in Yuma, Ariz. Stage two follows May 23-27 in San Diego, Calif.
Michigan Technological University is a public research university, home to more than 7,000 students from 60 countries. Founded in 1885, the University offers more than 120 undergraduate and graduate degree programs in science and technology, engineering, forestry, business and economics, health professions, humanities, mathematics, and social sciences. Our campus in Michigan's Upper Peninsula overlooks the Keweenaw Waterway and is just a few miles from Lake Superior.