Michigan State Announces Early Assurance Program for Michigan Tech Premedical Students
By Jennifer Donovan | Published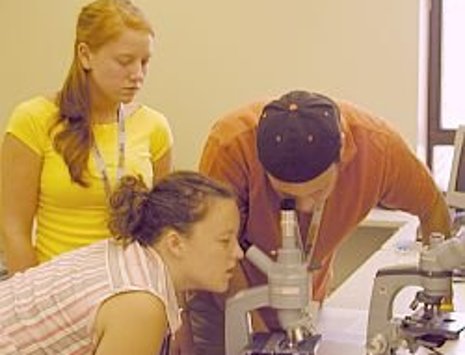 Michigan State University College of Human Medicine and Michigan Technological University entered into an agreement today that provides a link between premedical students at Michigan Tech and MSU's medical school.
Officials from both universities, including Bruce Seely, PhD, dean of the College of Sciences and Arts at Michigan Tech, and James Randolph Hillard, MD, MSU associate provost for human health services, finalized the Early Assurance Program for admission, which will help both disadvantaged students and underserved areas of medicine.
The Early Assurance Program provides an enhanced opportunity for admission to medical school to qualified premedical students who wish to practice in the underserved areas. Preference for admission will be given to students who are the first generation to attend college, students who graduated from a low-income high school, those eligible for Pell grants, or those who express interest in a high need medical specialty area.
"We are pleased to announce this partnership with Michigan Tech and to launch a program that will enhance medical care for the Upper Peninsula and beyond," said Hillard.
"Since more than 83 percent of Michigan Tech students graduate in high tech fields, we are especially pleased that this program will help attract more scientists and engineers to the medical profession," said Max Seel, interim provost and vice president of academic affairs at Michigan Tech. "One of Michigan Tech's long-term goals is to help create a prosperous and sustainable world, which means a healthy world. The critical thinking and leadership skills that scientists and engineers can bring to medicine will pay dividends for the universities and for society for years to come."
Michigan Tech students interested in caring for underserved populations will complete a program of enriching clinical and service experiences, as well as academic advising directed toward admission to MSU College of Human Medicine. The emphasis on care for the underserved is at the core of the College of Human Medicine's mission.
During their junior year, students who excel in the Michigan Tech program may apply to the College of Human Medicine and selected students will be assured of admission and begin a relationship with MSU College of Human Medicine during their senior year of college. There will be three seats reserved for this program.
# # #
Founded in 1964, Michigan State University College of Human Medicine was established in response to Michigan's need for primary care physicians. It was among the first community-based medical schools, with a curriculum that emphasized a patient-centered philosophy. The college encourages a cooperative and collaborative learning environment and continues to teach students to focus on patients' individual needs while developing an understanding of medical science and medicine's place in society. As a community-based medical school, the College of Human Medicine provides students with comprehensive training in clinical settings that most closely parallel the environment in which many physicians practice. During the third- and fourth-year of the program, students complete a series of required and elective clerkships at one of MSU's seven community-based program sites. The sites are located in Flint, Grand Rapids, Kalamazoo, Lansing, Saginaw, Traverse City and the Upper Peninsula.
Michigan Technological University is a public research university, home to more than 7,000 students from 54 countries. Founded in 1885, the University offers more than 120 undergraduate and graduate degree programs in science and technology, engineering, forestry, business and economics, health professions, humanities, mathematics, and social sciences. Our campus in Michigan's Upper Peninsula overlooks the Keweenaw Waterway and is just a few miles from Lake Superior.