Grad Student Takes Aim at Sugar Maple Dieback
By Marcia Goodrich | Published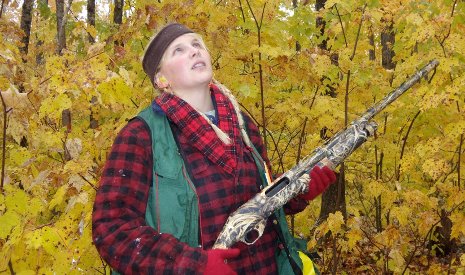 When Tara Bal brings a 12-gauge into the woods, she doesn't worry about exceeding her limit.
Bal, a Michigan Technological University PhD student in forest science, isn't a hunter. She is more of a gatherer, using the shotgun to bring down sugar maple leaves from the forest canopy.
With Andrew Storer, a professor of forest resources and environmental science, she aims to find out why so many Upper Peninsula sugar maples are in trouble. If you go for a walk in the woods and look up, you'll see quite a few trees with dieback: branches, even whole sections of the tree, have small leaves or are nearly bare.
The Tech researchers are following up on reports of sugar maple dieback by local foresters. "There's a lot in some areas, but not in adjacent areas," Bal says. "And it's not the first time this has happened." Sugar maple dieback was common here in the 1950s and 1960s. It seems like a cyclical phenomenon, but no one has ever pinpointed the exact cause.
"It could be a lack of nutrients, drought, or even too much water," Bal says. "We just don't know."
Leaves may hold clues to the mystery. To gather them, Bal shoulders her shotgun and knocks a few dozen from the crowns of selected trees in plots scattered throughout area forests.
In August, she collected leaves from those trees to test their nutrient levels and is doing the same thing this fall. By comparing the two, she can determine how much nutrition the tree actually absorbed. "Most of the nutrients should have gone back into the tree," she says.
Bal and forestry technicians also test trees for a fungus that causes a disease called "sapstreak" and analyze the surrounding soils.
While it may seem like recreation to conduct research in this somewhat unorthodox way, it's serious business, says Bal, and a lot could be at stake. "Sugar maple is the most valuable tree species we have around here," she notes.
Michigan Technological University is a public research university, home to more than 7,000 students from 54 countries. Founded in 1885, the University offers more than 120 undergraduate and graduate degree programs in science and technology, engineering, forestry, business and economics, health professions, humanities, mathematics, and social sciences. Our campus in Michigan's Upper Peninsula overlooks the Keweenaw Waterway and is just a few miles from Lake Superior.