Birds of Prey at Michigan Tech Thursday, Oct. 29
By Marcia Goodrich | Published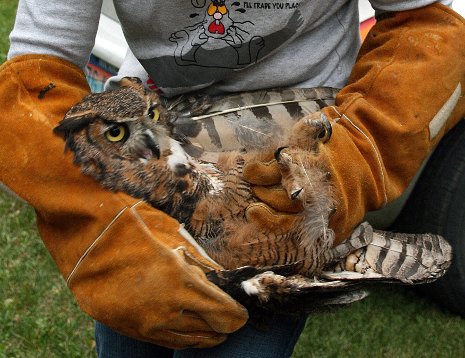 What does an owl's ear look like? Do owls have eyelashes? What does a facial disk do?
On Thursday, Oct. 29, the nonprofit Upper Peninsula Raptor Rehab and Wildlife Center will present a free program at Michigan Tech that's not just for bird lovers, "Whoo's in Houghton?" Area schools will be bringing students to four 45-minute programs throughout the day, starting hourly at 10:30 a.m. From 5 to 8:30 p.m., the public is invited to stop by, view the birds and ask questions. The programs will be held outside of the Walker Arts and Humanities Center.
The presentation is sponsored by the Wadsworth Hall Student Association. WHSA volunteers, representatives of the School of Forest Resources and Environmental Science and a Michigan DNR education and outreach specialist will be participating in the morning's activities.
The nonprofit Upper Peninsula Raptor Rehab and Wildlife Center is owned and operated by Gayle and Randy Bruntjens of Gladstone. The birds in the program all suffer from injuries or disabilities that prevent them from being returned to the wild. A Cooper's hawk, a barred owl and a great horned owl will be featured. The center was established in March 2006. "Before then, there were no state or federally licensed facilities in the Upper Peninsula that could take in injured birds of prey," said Gayle Bruntjens.
For more information, contact Rebecca Prich, programming coordinator for WHSA, at whsa_programming-l@mtu.edu .
Michigan Technological University is a public research university, home to more than 7,000 students from 54 countries. Founded in 1885, the University offers more than 120 undergraduate and graduate degree programs in science and technology, engineering, forestry, business and economics, health professions, humanities, mathematics, and social sciences. Our campus in Michigan's Upper Peninsula overlooks the Keweenaw Waterway and is just a few miles from Lake Superior.