2009 was Fine, but Golf Course Seeks Constant Improvement
By Dennis Walikainen | Published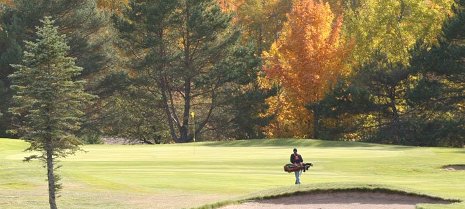 As the grounds crew, in chooks and gloves, trimmed evergreens, ran sprinklers, dug with a bobcat and did end-of-year cleanups, it was good time to reflect on the golf year just past and talk about next year.
Beginning with the Par and Grill restaurant, Mark Maroste, manager of the Portage Lake Golf Course (PLGC), says it was a very good season.
"We've created a nice dining atmosphere," he says. "We are getting more non-golfers coming out for lunch, and we're getting rave reviews on our burgers."
The action on the course was busy, too, Maroste says, thanks in great part to the Experience Tech fee, which allows Michigan Tech students to golf for free (and ski and do many other things) after paying a $64 fee each semester. "Thanks to Experience Tech, our rounds were actually up this year," he says.
In this economy, that's not bad. And part of what keeps golfers coming back to PLGC is improving of the course, based on customer surveys, Maroste says.
"We keep focused on what the golfers tell us," he explains.
Like leveling and/or lengthening tee boxes, for example. That's the focus on a couple of holes, numbers 13 and 17. Veteran golfers will remember an old tee box further back on the short par-four 13, and that is going to be resurrected. That, too, is part of a larger plan.
"We want to get the UPGA Men's Championship here," Maroste says. PLGC hosted the UPLGA Championship in 2009. "To get the men, we need to lengthen a couple of holes."
Thus the new (old) tee box on 13 and the improvement and lengthening of 17, and the future plans for numbers 3 and 5.
Other immediate concerns have involved purchasing two new mowers, gradually upgrading the golf carts and removing all stumps, at a price tag of $64,000.
Improvement projects aren't cheap, and the total for 2007 to 2009, including the Par and Grill Restaurant, was more than $325,000.
"This year, retail was down," Maroste says of selling clubs, clothes and more out of the clubhouse. "But that was true nationally and globally. We believe it is like the car industry—you really need to try before you buy. So, we will fit you with the right length, lie, and shaft for swing speed when you buy from us."
For the future, Maroste says, "We are continually investing in the improvements that the customers define."
Michigan Technological University is a public research university, home to more than 7,000 students from 54 countries. Founded in 1885, the University offers more than 120 undergraduate and graduate degree programs in science and technology, engineering, forestry, business and economics, health professions, humanities, mathematics, and social sciences. Our campus in Michigan's Upper Peninsula overlooks the Keweenaw Waterway and is just a few miles from Lake Superior.