Michigan Tech, Michigan State Sign Biofuel Research Contract with Frontier Renewable Resources
By Jennifer Donovan | Published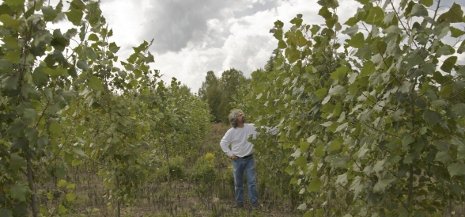 Research by Michigan Technological University and Michigan State University in their role as Michigan's first University Center of Energy Excellence will support development of the state's first cellulosic ethanol plant. The universities have signed a $2 million research partnership with Frontier Renewable Resources, a Michigan-based company that will build the plant in Kinross Township in the eastern Upper Peninsula (UP) of Michigan.
The Michigan Economic Development Corporation awarded a Center of Energy Excellence grant of $20 million to the Mascoma Corporation in September 2008 to develop the state's first production-scale cellulosic ethanol plant. Mascoma is a leader in advanced, low-carbon biofuels technology. Frontier Renewable Resources is the project development company owned by Mascoma and J.M. Longyear, a natural resources company based in Marquette in the UP.
As part of the Center of Energy Excellence grant, Frontier Renewable Resources is providing $2 million in research funding to Michigan Tech and Michigan State to conduct four projects in support of the biofuel plant development. Michigan Tech is leading two of the projects.
"Michigan Tech is delighted to be able to put our expertise in biomass-based fuel and renewable energy to work with Frontier Renewable Resources and Michigan State University, to ensure the economic and scientific success of this important alternative energy project," said David Reed, vice president for research at Michigan Tech. Reed played a key role in developing the research partnership with Michigan State.
As partners in Michigan's first Center of Energy Excellence, Michigan Tech and Michigan State have been working together for nearly two years to support development of Michigan's forest bioeconomy.
"Our research will help ensure that Frontier Renewable Resources makes efficient and productive use of our extensive forest resources in an environmentally, economically and socially sustainable way, while still meeting the needs of existing forest-based industries," said Robert Froese, associate professor of Forest Resources and Environmental Science at Michigan Tech and lead researcher on one of the projects.
The research projects include
• Development of a model of the biofuel supply chain, tracking biomass from tree to the plant gate. Lead researcher is David Watkins, Civil and Environmental Engineering at Michigan Tech.
• Assessment of the availability of raw materials to meet Frontier's needs while addressing the environment and sustainability and complementing existing forest-based industries. Lead researcher is Froese at Michigan Tech.
• Harvesting and transportation of biomass for the biofuel plant. Lead researcher is from Michigan State. Project co-leader is David Shonnard, who holds the Richard and Bonnie Robbins Chair in Sustainable Materials and is director of the Sustainable Futures Institute at Michigan Tech.
• Outreach and communication of research results. The lead researcher is from Michigan State. Project co-leader at Michigan Tech is Maria Janowiak, a research scientist in the School of Forest Resources and Environmental Science and the USDA Forest Service Northern Institute of Applied Carbon Science.
"Sustainability is a big part of this research," said Raymond Miller, MSU forest biomass development coordinator and director of the Upper Peninsula Tree Improvement Center, where woody biomass production research is conducted.
"Frontier is committed to helping Michigan become an energy leader, create good-paying 21st century jobs and reduce our dependence on imported fuels," said Frontier CEO Steve Hicks. "As a Michigan company based right here in the Upper Peninsula, Frontier is committed to sustainable forestry and best management practices," he went on to say. Hicks also serves on the Board of Trustees at Michigan Tech.
Michigan Technological University is a public research university, home to more than 7,000 students from 54 countries. Founded in 1885, the University offers more than 120 undergraduate and graduate degree programs in science and technology, engineering, forestry, business and economics, health professions, humanities, mathematics, and social sciences. Our campus in Michigan's Upper Peninsula overlooks the Keweenaw Waterway and is just a few miles from Lake Superior.