Michigan Tech Fleet Services Goes Green
By John Gagnon | Published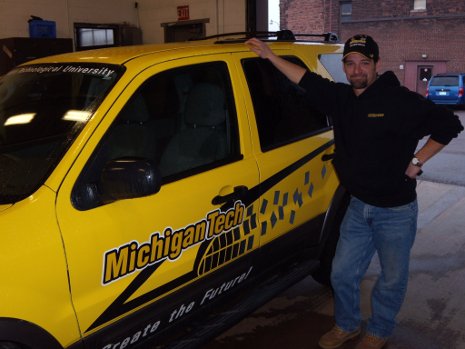 There's a new watchword at Fleet Services these days: hybrid.

"Our goal," says Pete Pelissero, manager, "is to go totally hybrid—one vehicle at a time."

Pelissero has just replaced four SUVs used by regional admissions representatives with Ford Escapes, which, at 34 miles per gallon, are ranked seventh among hybrid vehicles for fuel economy. That makes them nearly 50 percent more efficient than the old vehicles, which got 23 mpg. Each hybrid costs $5,000 more than its gas-operated counterpart. "We'll make up the difference in 12 to 24 months," Pelissero says
.
He has also purchased one Ford Fusion for general rental. It also is a hybrid, gets 41 mpg, and is rated second among hybrid vehicles for fuel economy.

Besides being lean on gas, all of these vehicles are quieter, Pelissero says.

These are not plug-in vehicles; rather, they are "dual-powered"—part-gas, part-electric. They employ what the industry calls "regenerative braking"—a system that captures the energy of braking and sends it to the battery pack for continual recharging. The batteries run the vehicles up to 40 miles per hour; then, when more power is needed, the gas component kicks in.

Fleet Services has 70 vehicles, from golf carts to dump trucks. To keep his vehicles running, Pelissero uses 5,000 gallons of unleaded fuel every three months.

According to Andrew McKenzie, of Green Campus Enterprise, Fleet Services contributes a mere 0.8 percent of the University's carbon footprint. Even so, says John Rovano, director of facilities management, the initiative is a small but important step in the University's progress in going green. "In time, all the little efforts will amount to a big accomplishment," he says.

Pelissero just returned from a trade conference in Chicago, which was meant to guide fleet managers to "green their fleets and save some green."
He learned that the city of Milwaukee uses all biodiesel fuel for its snow removal. "We're going to look at, too," Pelissero says. He uses diesel fuel at a clip of 300 gallons a month in the summer, 10 times that in the winter because of snow removal. At the moment, though, the delivery of biofuels in this area is uncertain.

Meanwhile, he says, the hybrid SUVs are "rugged and efficient." "We want to save money and protect the environment," he concludes. "The University wants to be a leader by example for going green."

Typically, Fleet Services purchases 10 vehicles per year. Pelissero anticipates replacing the five remaining admissions vehicles with hybrids within one year. His target is to switch all 32 of his SUVs and sedans to hybrids within five years.

One thing Pelissero won't do—cut back on his courtesy for clients. He'll continue to have the cars warmed up and ready to go in the winter.
Michigan Technological University is a public research university, home to more than 7,000 students from 60 countries. Founded in 1885, the University offers more than 120 undergraduate and graduate degree programs in science and technology, engineering, forestry, business and economics, health professions, humanities, mathematics, and social sciences. Our campus in Michigan's Upper Peninsula overlooks the Keweenaw Waterway and is just a few miles from Lake Superior.