Many Nations Break Bread at International Food Festival
By Jennifer Donovan | Published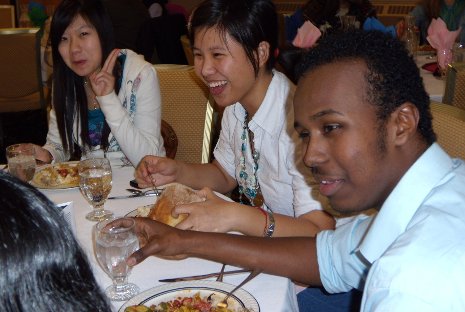 International students and faculty members joined dozens of guests from Michigan Tech and the community for an evening of ethnic food and music at the Memorial Union Ballroom on Saturday night, Nov. 14.
The International Club's third annual International Food Festival featured dishes from around the world, including Bangladesh chicken, Moroccan chicken with lemon and green olives, Native American butternut squash, Indian vegetable rice, Bengali fried chicken and potatoes, Jamaican jerk chicken, Mexican chipotle chicken, spaetzle or German dumplings, and nisu, a Finnish sweet bread.
Entertainment featured Raymond Mao, singer/songwriter; Alexandra Hand, flute; Carly Charlier ,violin; Mollie Ruth, cello; Uzi Mendez, cello; Eric Tangko, piano; Abhimanyu Sinha , bass guitar; Camilo Uzquiano, guitar.
Michigan Technological University is a public research university, home to more than 7,000 students from 54 countries. Founded in 1885, the University offers more than 120 undergraduate and graduate degree programs in science and technology, engineering, forestry, business and economics, health professions, humanities, mathematics, and social sciences. Our campus in Michigan's Upper Peninsula overlooks the Keweenaw Waterway and is just a few miles from Lake Superior.