Building a Grid that Plays Nice
By Marcia Goodrich | Published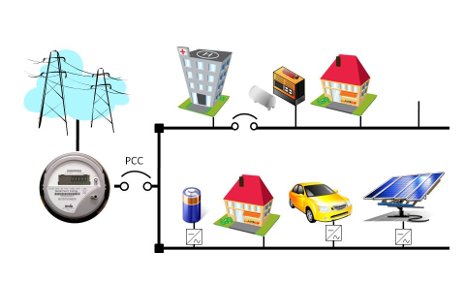 It's unlikely that you'll crash the local utility system by turning on your microwave. But in smaller electric grids it's not that hard for a single, power-gobbling component—say, central air-conditioning—to blow the proverbial main fuse.
Wayne Weaver, an assistant professor of electrical and computer engineering at Michigan Tech, is interested in designing ways for all components in smaller electrical grids to share power. His work applies to systems as simple as a solar-powered home and as complex as a naval vessel, an industrial park or a military outpost.
With a three-year, $350,000 grant from the National Science Foundation, Weaver will use game theory to build a mathematical model in which all components, from table saws to toasters, will divvy up electric power competitively yet amicably.
"Up to this point, components in all these types of systems have been tightly constrained; they had a set voltage that they maintain no matter what," he says. "In my approach, these different electrical parts are connected together, interact and compete for energy, as in a game. Each part responds in anticipation with what every other part will do.
"It's analogous to an economic system," he explains. "If someone wants to sell something, and there's no buyer, the price goes down. In an interconnected electrical system, some components would want to give up current or voltage, and some want to buy. Between them, they would negotiate a voltage, or current."
Weaver will also develop feedback controls, which let components communicate and carry out those negotiations.
In such a scenario, everybody wins--especially the people who rely on it. "The whole system will remain stable and operate more efficiently," he says.
Michigan Technological University is a public research university, home to more than 7,000 students from 54 countries. Founded in 1885, the University offers more than 120 undergraduate and graduate degree programs in science and technology, engineering, forestry, business and economics, health professions, humanities, mathematics, and social sciences. Our campus in Michigan's Upper Peninsula overlooks the Keweenaw Waterway and is just a few miles from Lake Superior.