Beckwith Honored with Gallery at Central Michigan University
By Dennis Walikainen | Published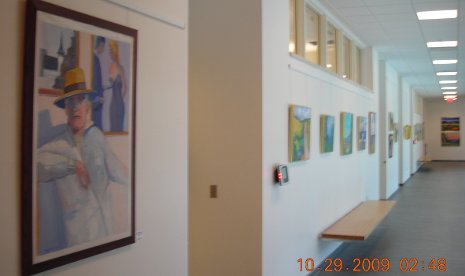 Mary Ann Beckwith, professor of art in Michigan Tech's visual and performing arts department, has had an art gallery named in her honor, thanks to a donation of artwork from Pete Tampas (former faculty member in the School of Technology) and Arlee Tampas, a Central Michigan University alumna.
The Mary Ann Beckwith Gallery, in the new Education and Health Services building on the Central Michigan campus, is so named "because of all she has taught me and others about papers, artists, techniques," said Arlee. "And she shares her knowledge so freely with everyone in the community."
The gallery is actually located in a hallway, and that was on purpose, according to Arlee. "The windows along the 110-foot hallway give natural light and actually open up on a computer lab across the way, so even more people can enjoy the art," Arlee said. The gallery will focus on local and regional artists, including an exhibit of Beckwith's work, for all of spring semester 2010.
"It really struck me out of the blue, and I am extremely honored," Beckwith said. "I've never dreamed of this happening to me. It really goes along with my belief that art should be part of everyday life."
Kathy Koch, interim dean of the College of Education and Health Services, also appreciates the utilitarian display of artwork.
"Having the gallery in our new building is a perfect way to communicate with our students and the community at large that learning is more than what happens in the classroom," she said. "The gallery exhibitions expose students to new ways of thinking about the world around them, and we hope it will stimulate their own creativity as they prepare for future careers and becoming informed citizens."
The first exhibit, "Dream of a Landscape," features Jens Carstensen, whose work is heavily influenced by the Michigamme area of the Upper Peninsula, according to a news release from Central Michigan.
The staff in the College is also pleased with the "casual and serendipitous gallery" and the artwork.
"The gallery helps soften the very industrial steel, glass, bamboo, and slate of the new building," said Anne Miller, coordinator of outreach and marketing for the College. "The south-facing windows lend themselves to a gallery, and we can fit some 25 or so paintings. We look at it as a platform for outreach, too. We would like to do an on-campus art walk, for example."
Miller was impressed with the talent of, and her talks with, Beckwith.
"She seems remarkable," Miller said. "She's a true superstar."
Although the gallery opened this fall, the grand opening will be held on Saturday, March 20, so Beckwith can visit.
The Beckwith Gallery is open Monday through Friday, 7 a.m. to 10 p.m., and Saturday, 8 a.m. to 5 p.m. The venue is handicapped accessible. For additional information, visit www.cmich.edu/ehs or call 989-774-7528.
Michigan Technological University is a public research university, home to more than 7,000 students from 60 countries. Founded in 1885, the University offers more than 120 undergraduate and graduate degree programs in science and technology, engineering, forestry, business and economics, health professions, humanities, mathematics, and social sciences. Our campus in Michigan's Upper Peninsula overlooks the Keweenaw Waterway and is just a few miles from Lake Superior.