Michigan Tech Takes a Silver in Clean Snowmobile Challenge
By Marcia Goodrich | Published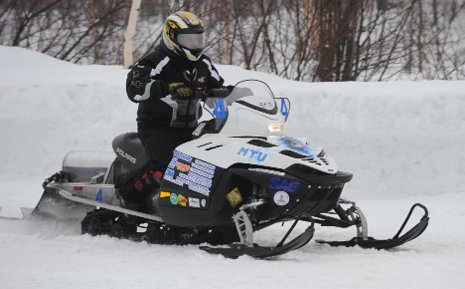 Michigan Technological University achieved its best finish in five years at the 2009 Society of Automotive Engineers Clean Snowmobile Challenge, finishing second and winning the Yellowstone National Park Award for Second Place.
"I'm happy," said team captain Rob Haack. "We came to win, but overall, I'm satisfied." He attributed their success to getting their machine outside early and often. "Our goal was to get the sled on the snow early," he said. "We focused on testing."
The Tech team took to heart the Challenge's directive to build a cleaner, quieter snowmobile. Its redesigned 2008 Polaris FST Switchback earned the PCB Group Award for the Quietest Snowmobile and the Sensors Inc. Award for Lowest In-Service Emissions. As a result, they received the BlueRibbon Coalition Award for Most Practical Solution, given to the team with the best balance of cost and reduction of noise and emissions.
Tech also received the Founder's Award for Most Sportsmanlike Conduct, which honors the late Bill Paddleford, the Teton (Wyo.) county commissioner who co-founded the Challenge in 2000.
The team received eight nominations for the sportsmanship award, in part for providing other teams with tools they needed to compete and even helping Clarkson University (Potsdam, N.Y.) rebuilt its engine.
"It's been an invaluable experience," Haack said. "We gave it all we had, and I wouldn't trade it for anything."
Michigan Technological University is a public research university, home to more than 7,000 students from 60 countries. Founded in 1885, the University offers more than 120 undergraduate and graduate degree programs in science and technology, engineering, forestry, business and economics, health professions, humanities, mathematics, and social sciences. Our campus in Michigan's Upper Peninsula overlooks the Keweenaw Waterway and is just a few miles from Lake Superior.