Five Teams Complete Clean Snowmobile Challenge Endurance Run
By Marcia Goodrich | Published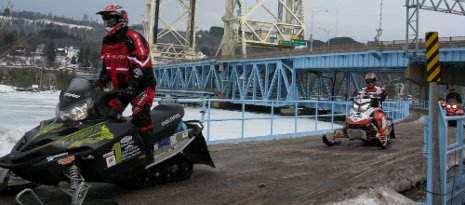 It takes more than a few days of sunshine to melt 260-plus inches of snow, which turned out to be a St. Patrick's Day blessing for contestants in the SAE Clean Snowmobile Challenge.
The trails were too boggy for sleds in the Challenge's internal combustion division to make the planned trek to Baraga. Nevertheless, the successful contestants managed to travel 65 miles, 30 on the Keweenaw Research Center track and 35 on snowmobile trails to Twin Lakes.
Five teams completed the Endurance Run: the University of Idaho, Clarkson University, Michigan Technological University, the University of Maine and the University of Wisconsin at Madison.
Set for March 16-21 at Michigan Technological University's Keweenaw Research Center, the Clean Snowmobile Challenge is a collegiate design competition of the Society of Automotive Engineers. Engineering students from participating schools take a stock snowmobile and reengineer it. Their aim: to reduce emissions and noise while maintaining or boosting performance.
This year, the sleds are running on flex-fuel, anything between 10 percent and 85 percent ethanol. They did not know what was poured into their tanks before they took off this morning, but the finishers said it didn't matter.
"There were no problems," said Mike Lovett of the University of Maine. "It ran better on flex-fuel."
"It went great," Dylan Dixon of the University of Idaho agreed. "The trails were missing snow in spots, but it was a good ride."
Matthew Mastro, who drove the Clarkson snowmobile, called the trails "pretty decent."
"The only problem was cooling the sled," he said.
Jason Blough, an associate professor of mechanical engineering-engineering mechanics and advisor to the Michigan Tech team, noted before the Endurance Run that keeping snowmobiles cool with temps rising into the 50s can be a hurdle. "But we have more miles on our machine than we did in the past," he said. "We'll see. Our hopes are high."
They were well founded. "It ran great," said Tech driver Andrew Wicklacz after a successful arrival at Twin Lakes. The only problem was a little mud: "Our sled is as dirty as can be."
Event co-organizer Jay Meldrum said the Endurance Run went well, despite the route change. "Twin Lakes has the best snow this time of year," he said. While road crossings were essentially bare, the participants picked up plenty of snow for a successful ride.
Nick Rakovek of UW Madison couldn't agree more. "It was nice to get onto the trails," he said. "Our snowmobile ran tip top, better than my sled," he added.
Gage Products, a major sponsor of the Challenge, provided fuel for the run, which also tests the entries for fuel economy. Organizers are particularly grateful this year because Gage is providing three times as much fuel. Throughout the competition, sleds will be fueled by any of three mystery blends, each with a different concentration of ethanol.
The public is welcome at several events during the Clean Snowmobile Challenge. On Wednesday, March 18, between 6 and 8 p.m., all the teams will have their snowmobiles on exhibit at the Copper Country Mall. Everyone is invited to stop by and chat with the students about their strategies and innovations.
On Saturday, March 21, the public is welcome at the Polaris Acceleration and Handling event, set for 10 and 11 a.m. at the Keweenaw Research Center test course, near the Houghton County Memorial Airport. Dress warmly; no seating is provided, and visitors must walk in to the course from the road.
This is a great opportunity to see the ultra-quiet, zero-emissions entries in action. These battery-powered snowmobiles are specially designed for use by researchers studying pollution in remote arctic terrain. The teams receive support from the National Science Foundation.
Tickets for the awards banquet on Saturday are $25. For more information, call 487-2750.
The SAE Clean Snowmobile Challenge is sponsored at Michigan Tech by the Department of Mechanical Engineering-Engineering Mechanics and the Keweenaw Research Center.
For more information on the Challenge, visit www.mtu.edu/snowmobile/ .
Michigan Technological University is a public research university, home to more than 7,000 students from 60 countries. Founded in 1885, the University offers more than 120 undergraduate and graduate degree programs in science and technology, engineering, forestry, business and economics, health professions, humanities, mathematics, and social sciences. Our campus in Michigan's Upper Peninsula overlooks the Keweenaw Waterway and is just a few miles from Lake Superior.