Remembrances of Dimes Past
By John Gagnon | Published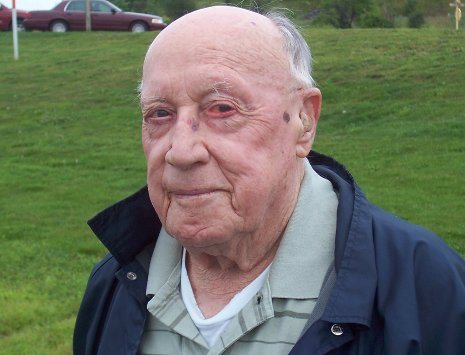 We had the pleasure of talking with alumnus Jim Cooper, visiting from Arizona, who earned a degree in metallurgy in 1939 and parlayed it to worldwide achievement. Jim spent nearly 40 years in the mining industry, much of it in Mexico, and at one time his operation was the most efficient in the world. "That," he says without a touch of swagger, "was probably, in the business sense, as outstanding as you can do."
Shakespeare described old people as "crabbed age." Jim, who is 93, is anything but; he's a genial man, soft-spoken and calm. The closest he gets to rancor is when he contemplates multi-million-dollar salaries for athletes and actors. "Ridiculous," he says. "There's something wrong with the country when entertainers get more than doctors and teachers."
This from a man who went through the Great Depression and knows about a dollar.
"Brother, can you spare me a dime?" was the refrain of the time. Jim would change that to a nickel. He says, "Once I had a spare five cents that I didn't need for something. I bought a pack of chewing gum." He adds, "I didn't have much, but nobody else did either, so we were even."
Jim was born in Hubbell, raised in Houghton, and graduated from Houghton High School. He worked his way through Michigan Tech. He painted. Minded the till in a cigar store. Worked at a hamburger joint and made a dollar a shift plus all he could eat. He was a bellhop and a bartender at the Douglass House. As a bartender, he made a buck a shift plus tips. In those days, it cost five cents for a glass of beer; 10 cents for a bottle of beer; 15 cents for a whiskey and a chase; and 35 cents for a highball. All in all, his earnings paid for Tech's tuition, which was $50 a year, in-state. He remembers Tech's 50th anniversary reunion in 1936. His hours tending bar then were from 10 a.m. to 4 a.m. He says about bartending, "You have to like people and listen to them--but make a decent drink."
While he was at Tech, he says the enrollment went from 500 to 700. A constant of his college days: dances that were called "hard-time parties," held in what is now the ROTC building. Twenty-five cents to get in, and a jukebox for music. A hundred students typically went to shimmy and shake.
Jim says the first two years at Tech were his toughest. "I'm not a genius in math. I had to work pretty hard." Sometimes there were as few as three or four students in a class.
After graduation, he hitchhiked Route 66 to Arizona and went to work for a mining company, considering himself lucky to get that all-important first job. He earned $4.19 a day, about $147 a month—"more than I knew what to do with." He was paying $9 a month for a room; $27.50 a month for two meals a day. After two years, he enlisted in the Army Air Force, was a navigator on bombers, was shot down over Germany, and spent 10 months as a prisoner of war. After recuperating with good food and Bosch beer over a few months at Twin Lakes, he returned to Arizona, worked a few years, and then spent 30 years in Mexico digging up lead, zinc, fluoride, silver, and gold.
At one point, he oversaw all surface operations of a company that employed 2,000 workers. He describes the job: "I found that most complicated problems can be broken into parts, and you solve them piece by piece"
His Tech education girded him for his responsibilities: "They taught you to think," he says. "Every industry changes over the years. You have to keep up. Think logical, is the main thing."
He says about working in a foreign country. "People have different customs but have the same objectives—raise the children and do the best for the family."
He is not given to nostalgia. "I don't live in the past," he says. "You look back on it because you do less in the present."
He's writing a memoir of his life for his children and grandchildren and great grandchildren. His advice to them and all youth—"Do our best and don't apologize for it." He worries about their future. "The world improved, at least up to recently," he says. "People in the next generation won't live as well as we do."
Meanwhile, he wants to be remembered as a man of his times. "I wouldn't want to live in any other time," he says. "Dickens said it—'the best of times and the worst of times.' That certainly fit the 20th century."
It was a life that started out with livery stables and iceboxes. "That's so long ago," he says. "There's been a lot of things happen since. The best memories are scattered all through there."
Before 2004, when his legs went, he was active. Now he's slow but circumspect. "As long as you're not suffering pain, things move on pretty well." He uses a cane now. "I don't need it and I still carry it," he wonders.
Michigan Technological University is a public research university, home to more than 7,000 students from 54 countries. Founded in 1885, the University offers more than 120 undergraduate and graduate degree programs in science and technology, engineering, forestry, business and economics, health professions, humanities, mathematics, and social sciences. Our campus in Michigan's Upper Peninsula overlooks the Keweenaw Waterway and is just a few miles from Lake Superior.