Hockey Camp and the Fundamentals of Fun
By Dennis Walikainen | Published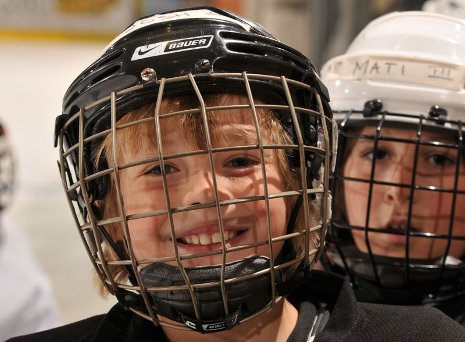 Todd Hamar was watching his son, Blake, go through his power-skating drills. It was Blake's first visit to the Hockey Development Center and his first foray into goaltending, at the Pee Wee (ages 11–12) level.
"Fourth time in the pads, and he's doing pretty well," said the elder Hamar, a 1984 Tech graduate and southern California resident. "I wanted him to learn goalie from the basics, before he learned any bad habits, and wanted him to work on his skating skills."
He came to the right place.
In its 38th year, the Hockey Development Center has focused on skating, on- and off-ice skills, lectures, films, game situations, and an overall approach to teaching that involves numerous coaches from Michigan Tech and elsewhere. They break hockey down to the fundamentals and build a player's game up from there.
A catcher in baseball, Blake is used to having things flying at him, his dad said. "I appreciate that they are focusing on technique and preparation," Todd said.
And there are smiles along the way. The low-key atmosphere of one morning's ice time was typical.
Below us, the two groups of gold- and black-jerseyed players and white-outfitted goalies were skating around tires, then around the face-off circles, first forwards, then backwards. The boys and girls did well, with a few tumbles and words of encouragement from Huskies head hockey coach Jamie Russell and assistant coach Pat Mikesch.
Next, they moved on to skating the length of the MacInnes Student Ice Arena playing surface, carrying a puck, passing it off, and returning to their line.
Lori Baumann from Mosinee, Wisconsin, was watching her son, Nick, who was also in his first year of camp with the Pee Wees. Her elder son, Cody, was at camp as a goalie in the Bantam (ages 13–14) division.
"I appreciate the focus on skills," she said. Baumann chose Tech's camp after a steer from her sister, Jenny Koskey, who graduated from Tech and played club hockey here.
"This is my first player camp," se said. "They really work on the basics. With Cody in goalie camps and Nick here, it's fun to watch all the different drills."
The ice rink was a nice respite from summer, too, as the first warm, humid days were hitting the Keweenaw. Other parents were lounging around the Student Development Complex, including David Aird '87, who was tied up with a conference call on his iPhone, between sessions for his son, Brendan, also a Pee Wee.
"My son loves it," Aird said. "He's having lots of fun. He's an active kid, and he likes a full, busy day! He loves the off-ice action and the one-on-one attention. The coaches are great."
It was Brendan's second year at camp, and his dad was already planning on next year's trip, including more visits to family in the area. In fact, a boat ride in Chassell Bay was in the works before the evening scrimmage.
His daughter, Jacqueline, brought a friend to Tech's recent volleyball camp and was planning on bringing two or three friends next year.
As Aird continued his phone call, a stream of Mites (ages 6–8) marched up the stairs of the SDC as a line of high school-aged players flowed past them to the ice level. Thanks to the fundamentals they're learning at the Hockey Development Center, they'll all be better prepared for wherever their love of hockey leads them.
Michigan Technological University is a public research university, home to more than 7,000 students from 54 countries. Founded in 1885, the University offers more than 120 undergraduate and graduate degree programs in science and technology, engineering, forestry, business and economics, health professions, humanities, mathematics, and social sciences. Our campus in Michigan's Upper Peninsula overlooks the Keweenaw Waterway and is just a few miles from Lake Superior.