Federal Grant to Study High-Risk Alcohol Use on Campus
By Jennifer Donovan | Published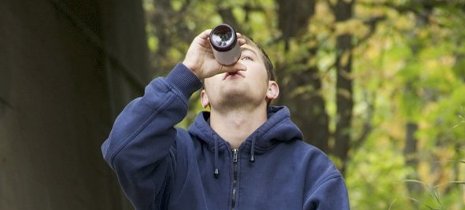 Michigan Tech has received federal funding to address a persistent problem on campus: high-risk drinking, which is a critical issue nationwide.
"This is going to be a huge step forward to reduce risky drinking behaviors on campus," said Michelle Bangen, of Counseling and Wellness Services.
The $116,840 grant from the Department of Education will support Tech's effort to achieve a campus characterized by healthy relationships, healthy living and a healthy community--all of which can be undermined by alcohol abuse.
"Alcohol abuse," said Don Williams, director of Counseling and Wellness Services, "figures pretty heavily in a lot of the conduct issues we see with students on campus." Those issues can range from breaking a window to sexual assault. "A lot of that stuff, if you dig a little deeper, there's alcohol involved."
Bangen, coordinator of student health and wellness, will spearhead the initiative, and Katie Russell, coordinator of orientation at COMPASS, will track the results and evaluate the effectiveness.
Underlying the effort is some critical misinformation, Bangen said. "The thinking on campus and in the community is that Michigan Tech is an extremely heavy drinking school. Students think that other students are drinking a lot more than they actually do." That mistaken notion can constitute pressure to drink, especially among first-year students. "If students perceive others as heavy drinkers," she says, "they are more likely to become heavy drinkers, thinking it will help them fit in."
"The misconception about alcohol abuse on campus is gigantic," Bangen added. She cites a 2006 alcohol and drug use survey that measured usage, attitudes, and perceptions. It showed that more than 90 percent of Tech students believe that the average student drinks once a week or more; while, in fact, 70 percent of students drink once a week or less, and 20 percent don't consume alcohol at all.
"Although the majority of our students are making smart decisions related to alcohol use," Bangen said, "the percentage of Michigan Tech students engaging in high-risk drinking behaviors is still unsettling."
The 2006 survey determined that 49 percent of students reported to have binged--consumed more than five drinks in a setting--in the two weeks before the survey.
Bangen says the problem is more pronounced in certain student populations (intramural and intercollegiate athletes, the Greek community and first-year students) and at certain times (orientation, Homecoming, the end of the semesters, Winter Carnival and Senior Walk). These populations and occasions will be the main focus of the grant implementation.
The first step will be to contact incoming first-year students during the summer before their arrival on campus. They will be required to complete "AlcoholEdu for College Students," an online interactive program that identifies drinking habits and addresses the policies, risks and consequences of problem drinking. "We'll help them gain good risk-reduction and decision-making skills before they show up on our doorstep," Bangen explained.
The second step is called "Social Norms Marketing." Bangen calls it "a highly promising" initiative that will combat the falsehoods about the campus drinking culture and help students fit into an actual culture rather than a mythical one."
The third step is effective intervention with problem drinkers and those facing judicial violations. "We want to see that they are not going to get back in trouble and back in our office," Bangen says.
The federal funds cover hiring additional staff--particularly more students in HOWL (Healthy Options for a Wellness Lifestyle). They will offer a range of awareness activities beyond the marketing campaign--workshops, a speaker and late-night alcohol-free events, including one at the Winter Carnival all-nighter.
HOWL will produce banners, posters, table tents ("the preferred and most effective method of advertising on campus") and giveaways, such as pens, clip magnets, Frisbees and flashlights, that contain messages about the more-restrained drinking culture on campus.
Involving students is key, Bangen says. "Bullying them not to drink doesn't work. They don't want to be lectured. They take peers more seriously than us professionals saying no."
In the past, Tech's efforts to reduce alcohol abuse have been generally limited to regulation and enforcement. The new program is many-pronged, and, for the first time nationally, it pulls together several initiatives. "One thing isn't going to fix everything," Bangen says. She calls the effort "a holistic approach."
Williams says the program could become a model for the rest of the nation's campuses.
Michigan Technological University is a public research university, home to more than 7,000 students from 54 countries. Founded in 1885, the University offers more than 120 undergraduate and graduate degree programs in science and technology, engineering, forestry, business and economics, health professions, humanities, mathematics, and social sciences. Our campus in Michigan's Upper Peninsula overlooks the Keweenaw Waterway and is just a few miles from Lake Superior.