Construction Brings Change to Michigan Tech Campus
By Kara Sokol | Published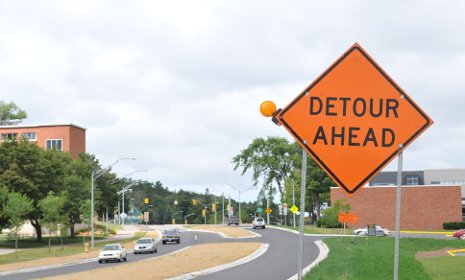 Summer is synonymous with many things—sunshine, warmer temperatures, and construction projects.
Michigan Technological University is no exception, and many students and faculty members coming to campus later this summer will be greeted by a new landscape. It will be out with the old and in with the new, which in this case includes a spaciously widened and safer stretch of US Highway 41, increased green space, changes in some parking areas, and a new home for Tech's broomball rinks.
Vice President for Student Affairs Les Cook says the project, once finished, will have a "positive impact."
"The end result will provide a safer, more pedestrian-friendly corridor for our students, faculty, and staff," he says.
In May, the Michigan Department of Transportation (MDOT) began work on a highway improvement project for the portion of US-41 that stretches through the heart of campus. The main goal: to install a center-lane refuge strip for crossing pedestrians.
Before crews could break ground, however, the University had to deal with the issues caused by the widening—namely, the impact on the University's parking availability and broomball rinks, both of which would be affected by the project.
A task force comprised of key staff and students was formed in early summer 2008 to examine the issue. They considered the needs of students, faculty, and staff, and looked to the University's 2006 "Fresh Look" master scenarios plan, which outlined the eventual phasing-out of Lot 14 (adjacent to the Walker Building). Their recommendations were then presented to and approved by the University's Student Commission and Executive Team.
So what will their recommendations mean for the campus community? Broomball spectators and players will have a new view next winter with the rinks being relocated to a new green space at the east end of Lot 14.
"The rinks are bound not only by US-41 but also by the sidewalk and the Walker building, which eliminated the possibility of keeping them on the Walker lawn," says former student and task force committee member Dustin Sommer. "The proposed shift will allow broomball to remain in the heart of campus and continue to thrive as a Michigan Tech tradition."
With the construction project taking a bite out of several parking areas and a section of Lot 14 absorbing the broomball rinks, parking mitigation became the committee's main focus.
"Our goal was to give a parking recommendation that would find equity and balance among all parties affected," Sommer says.
Their solution consists of several changes:
Lot 9 (located east of the Rosza Center for the Performing Arts parking area) will be divided into two separate areas by a non-permanent guardrail: the east end of the space will remain Commuter Lot 9, while the west end will become the new Lot 5, with 112 spots for graduate student parking.
Lot 14 will retain a row of parallel parking spots along the highway, but otherwise will be reverted into a green space. Seventy-five spaces will be displaced, with affected faculty/staff shifting to Lot 8 (located behind Walker) or other nearby areas, and graduate students moving to the new Lot 5.
The change will allow graduate students to gain 42 new spaces. And lost spots for commuters will be absorbed by Lots 22, 23, 24, 26 and 32, which are rarely full.
Those affected by the change have been notified via email about their new parking locations.
"The proposed shift may be an adjustment for some students," the committee's report explains, "but it will allow the University to expand its green space on campus and give the community more open space to recreate."
Michigan Technological University is a public research university, home to more than 7,000 students from 54 countries. Founded in 1885, the University offers more than 120 undergraduate and graduate degree programs in science and technology, engineering, forestry, business and economics, health professions, humanities, mathematics, and social sciences. Our campus in Michigan's Upper Peninsula overlooks the Keweenaw Waterway and is just a few miles from Lake Superior.