Students Labor on a Frosty Winter Carnival Night
By John Gagnon | Published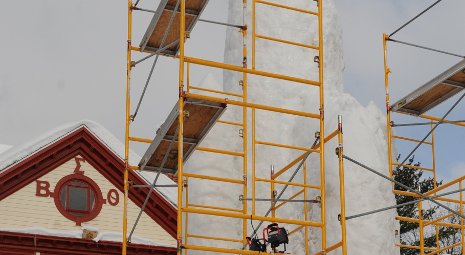 There are bold things being done in the dead of night at this time of year.
Students brave the daunting dark and the cursed cold as they craft the icy monuments that are Winter Carnival's iconic image: snow statues. They are not summer soldiers.
"You keep going while you have the motivation and heart to be out here," says Jon Parrott, who helps lead the fellows from Delta Sigma Phi as they labor on an immense statue by Wadsworth Hall. He loves the camaraderie. "We work together for three and a half weeks to create, basically, a work of art."
All of these stalwart builders mix snow with water, haul it by snow scoop and bucket, put it in plywood forms, stomp on it, coat it with more water and ice to make it smooth, and then iron it and carve it. They fashion walls and eyelids. Their tools range from pick axes to soldering irons.
Delta Sigma Phi is creating an imposing work in progress--about 150 feet long, 30 feet deep and 28 feet high.
Parrott, a fifth-year student in computer engineering from Green Bay, is a veteran statue builder and is one of three leaders who direct the efforts of 28 members of the fraternity.
When we catch up with him on Monday night, he is scooping snow. "It's getting warm," he says about the 10-degree weather. "Nice to work in."
He has worked on the project steadily. He and a few of his brothers came back a week early over the holiday break to gather the materials and the tools and to lay out the job. They started working at 12:01 a.m. on the first day they were allowed to. There is no quota for each member's contribution. "It's all voluntary," Parrott said.
On average, the members work 40 hours a week. As a leader, Parrott routinely works 60 hours a week, generally from dinner to two o'clock in the morning. "We're sleep deprived," he says. The regimen during the day is classes and schoolwork; during the night it is the statue.
He tackles the bull work, like hauling buckets of slush; others are experts in delicate detail. He admires them. "It's tough to do a face with eyes and nose and mouth, all proportional. Hands are tough, too."
To accomplish these tasks, and others, like making ice chains, Parrott says, "Tricks of the trade get handed down."
Kurtis Schwaiger is a fourth-year student in mechanical engineering from Manistee and the leader of the concussion section in the Pep Band. He and three of his frozen chums, all members of DaWGs, are working on a modest project: a 20-foot-square putt-putt golf course, with eight and a half holes. The last half-hole is big enough to put a basketball in. "It's a par one," Kurtis says. "You can't screw it up."
He talks while shoveling 14 inches of snow off the site. He doesn't miss the irony. "Getting rid of the snow," he says. "Imagine that."
The Pep Band group didn't miss a beat when the temperature plummeted to 20 below last week. Angela Hallo, a second-year student in mechanical engineering from Kentwood, confesses, though, that they took extra breaks: "Warm up 'till you can feel your toes, and come back out."
Hallo wore layers to combat the cold. A coworker had on steel-toe boots. "Unfortunate," he laments. He adds, "This isn't as much fun as it looks." Hallo says the job is hard to do, but nice to have done. "It's cool to look back," she says.
She and three others are under-equipped. They have only two decent shovels; the rest are little playthings. They admonish passersby that they couldn't walk by without paying a toll: more shovels.
Over by the Memorial Union, a dozen sisters of Delta Zeta are at work.
"What are you building?" Samantha Hendricks is asked.
"We're not saying," she says. "We tell everyone we're building an upside-down school bus."
A senior from Norway, Hendricks was the first runner-up and the audience's choice in the queen competition. She has traded her evening gown for boots and rubber gloves.
She is slushing--dipping handfuls of snow into water and slapping it on a featureless mound that one student calls "the mass."
This sorority's spot, north of the Memorial Union, is in the wind tunnel and has proved trying. "We try to not stand around. Keep moving. Stay warm. Keep as much skin covered as possible."
Hendricks is in her third year of statue building. "I love it," she says. "It's a great feeling. At the end, it is so worthwhile to put together something this big."
It is cold enough that when her group stops using the hose for just a few minutes, it freezes, and out comes the hair dryer to thaw it.
"We want to win," Hendricks says of the statue competition, but classes and study are still paramount duties. "We budget our time right. We take academics very seriously." Some sisters have to stick to the book work and can't join the statue work. "They bring hot chocolate," Hendricks says.
Michigan Technological University is a public research university, home to more than 7,000 students from 60 countries. Founded in 1885, the University offers more than 120 undergraduate and graduate degree programs in science and technology, engineering, forestry, business and economics, health professions, humanities, mathematics, and social sciences. Our campus in Michigan's Upper Peninsula overlooks the Keweenaw Waterway and is just a few miles from Lake Superior.