Phi Kappa Tau Wins Fraternity Statue Division
By Kara Sokol | Published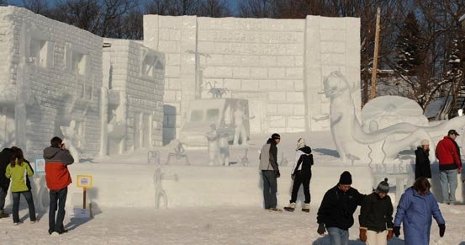 Phi Kappa Tau brought home the gold in Michigan Tech's 2009 Winter Carnival statue competition, nabbing first place among the University's highly competitive fraternities.
Their creation, "Aliens Come from Far Away, the Men in Black Save the Day," captures an icy scene from the "Men in Black" movie: our heroes zapping large-scale alien creatures in the New York City Bridge and Tunnel Authority. The display is located in front of their house, 1209 West Quincy St. in Hancock. The spacey creation captures this year's Winter Carnival theme, "An Icy Place Gets a Blast From Space."
Second-place winner Delta Sigma Phi wowed with a frosty depiction of characters from the show "Futurama." Their creation, entitled "At Work with Fry and Bender in a Frozen Urban Splendor," is located in front of the fraternity house, 1421 Woodland Road, near Wadsworth Hall.
Coming in third in the fraternity division was Tau Kappa Epsilon with their frosty creation, "Fifty Years in Space Frozen in Place." The display, laden with rocket ships, airplanes, and men on the moon, can be seen near Michigan Tech's Administration Building.
In the women's group division, Alpha Sigma Tau grabbed first-place honors for their icy diorama, "Houghton Should Start an Investigation on this Front Yard Space Invasion." Visit the sorority house at 916 College Ave. to witness the front yard under siege by extraterrestrials.
Second-place honors went to Delta Phi Epsilon for their Buzz Lightyear rendition, "To Michigan Tech and Beyond." Coming in third was Delta Zeta's interplanetary courtroom scene "Two Robots Fight For What is Right in a Gloomy Place in Outer Space."
The top statue-builders in other categories:
Student Organizations: Army ROTC, first; Air Force ROTC, second; Inter-Christian Council, third.
Residence Halls: The Summit, first; Mama's Boys, second; The Northern Alliance, third.
One-Nighter University Housing: Bastille, first; 4D, second; Asphodel Fields and Atlantis, third.
One-Nighter Off-Campus: Lutheran Student Movement, first; Concordia Student Ministries, second; Boy Scout Troop 208, third.
One-Nighter On-Campus: VPA Nightclub, first; Computer Science Learning Community/Daddy's Girls, second; Mu Beta Psi, third.
Michigan Technological University is a public research university, home to more than 7,000 students from 60 countries. Founded in 1885, the University offers more than 120 undergraduate and graduate degree programs in science and technology, engineering, forestry, business and economics, health professions, humanities, mathematics, and social sciences. Our campus in Michigan's Upper Peninsula overlooks the Keweenaw Waterway and is just a few miles from Lake Superior.