Miers Receives SAE Award for Outstanding Presentation
By Marcia Goodrich | Published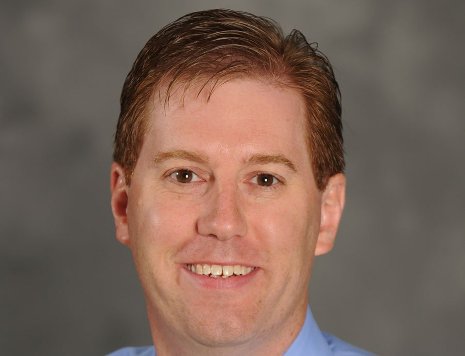 Scott Miers, an assistant professor of mechanical engineering-engineering mechanics at Michigan Technological University, has received a Lloyd L. Withrow Distinguished Speaker Award from the Society of Automotive Engineers.
The award recognizes outstanding presentation skills at SAE technical sessions. The recipient must have received the Oral Presentation Award more than twice; Miers is one of only five presenters to be given the Withrow Award this year.
Miers received SAE Excellence in Oral Presentation Awards for the following presentations: "Drive Cycle Analysis of Butanol/Diesel Blends in a Light-Duty Vehicle" at the SAE Powertrains, Fuels and Lubricants Meeting, held in October in Chicago; and "Impingement Identification in a High-Speed Diesel Engine Using Piston Surface Temperature Measurements" at the 2005 SAE World Congress meeting, in Detroit.
The award recognizes the late Lloyd L. Withrow, head of the GM Research Laboratories Fuels and Lubricants Department. Withrow was an SAE Fellow and noted speaker at many SAE meetings known for his continual insistence that those he supervised develop and demonstrate excellent communication skills, both written and oral.
"This is a significant recognition for Scott, especially so early in his career," said Bill Predebon, MEEM department chair. "It indicates his research potential, and it demonstrates his ability communicate that research. He stands out among his peers in his ability to integrate content and presentation skills in a manner that the audience understands and appreciates."
Miers will receive the award at the SAE World Congress in April.
Michigan Technological University is a public research university, home to more than 7,000 students from 60 countries. Founded in 1885, the University offers more than 120 undergraduate and graduate degree programs in science and technology, engineering, forestry, business and economics, health professions, humanities, mathematics, and social sciences. Our campus in Michigan's Upper Peninsula overlooks the Keweenaw Waterway and is just a few miles from Lake Superior.