A Crowning Achievement: Melissa Meyer Named Winter Carnival Queen
By Kara Sokol | Published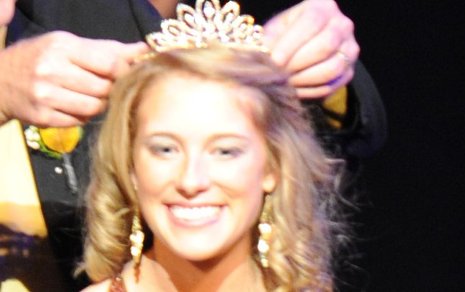 When gowns sparkle, piano keys tickle, and extraterrestrials take over the Keweenaw for a nibble of pasty, it can mean only one thing--the 2009 Winter Carnival Queen Coronation has commenced.
The eight women vying for this year's title were seemingly as different as they come—one a soft-spoken electrical engineering major with a gift for playing the piano, another a marketing student with a penchant for cooking.
But different as they may have been, one similarity was clear: the desire to represent Michigan Tech in a friendly, positive light. Battling nerves and sky-high heels, the women smiled, joked and laughed their way through question-and-answer sessions, evening wear displays, and talent performances.
"They were great," said contestant Melissa Meyer of her fellow competitors. "We all laughed so much."
Meyer's enthusiasm for her fellow queen candidates was not lost on the judges--the evening's coronation ended with her being crowned this year's Winter Carnival Queen.
"It's more than just a contest," Meyer said. "The winner is an ambassador for Winter Carnival and for the University. I'm very excited."
Meyer won the judges over with her poise, casual sense of humor during the question-and-answer session, and stylized "acrojazz" dance performance.
First runner-up Samantha Hendricks impressed with a stunning vocal rendition of "Bella Luna" performed on a smoky stage. Audience members voted her "Audience Favorite."
Second runner-up Laurilee Kroll brought a unusual talent to the mix—-cooking. During her presentation, "Three-Minute Meals with Laurilee Kroll," she prepared a pasta dinner—-dessert moon pies included-—in under three minutes.
"Rachael Ray can't do it that fast," Kroll laughed at the start of her presentation.
Kaitlyn Reed was another of the evening's big winners, taking home the title of Miss Congeniality for her "friendly attitude and willingness to help others."
"They were all so great to work with," Reed said of her competitors.
While the women were also judged on evening wear and question-and-answer responses, the talent portion was easily the audience's favorite portion of the event. Competitor Aimee Beauchamp performed a hilarious futuristic musical dance routine, while Jessica Mariano and Marcella Campione cracked people up with humorous monologues about alien invasions. Reed and Andrea Taglione performed piano renditions of two sweeping melodies: "Life on Mars" and "Across the Stars."
Michigan Technological University is a public research university, home to more than 7,000 students from 60 countries. Founded in 1885, the University offers more than 120 undergraduate and graduate degree programs in science and technology, engineering, forestry, business and economics, health professions, humanities, mathematics, and social sciences. Our campus in Michigan's Upper Peninsula overlooks the Keweenaw Waterway and is just a few miles from Lake Superior.