VPA plays receive Kennedy Center/ACTF honor
By Dennis Walikainen | Published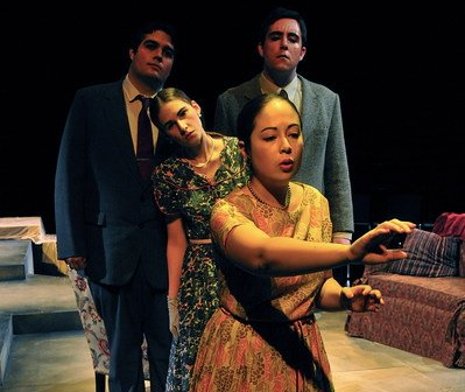 The two one-act plays recently produced by Michigan Technological University's Visual and Performing Arts Department (VPA)—"The Bald Soprano" and "The Lesson"—have been selected to be performed at the Kennedy Center/American College Theatre Festival. The Region III festival will be held at Saginaw Valley State University from January 5 to 9, 2010.
The two Eugene Ionesco plays were evaluated along with all other plays entered since January of this year in the four-state region of Michigan, Wisconsin, Illinois and Indiana. Judges selected the most outstanding eight performances of the year to be presented at the January festival.
"It's immensely unusual for a school with the resources of Michigan Tech to be able to compete in the marketplace with the finest schools in the Midwest," said Roger Held, chair of VPA. "Region III is the largest of the eight KC/ACTF regions. To have a production selected for performance at the annual festival is very difficult, because the competition is intense."
Since the announcement, the actors, designers, and crew members had to immediately go back into rehearsals, redesigning them to be moved to a 550-seat proscenium theatre at Saginaw Valley State.
In announcing the awards, the KC/ACTF selection committee cited director Patricia Helsel's creative interpretation of the Ionesco plays and her unique stylistic choices, as well as "outstanding production values and use of technology," particularly the play's use of projections and its scenic, sound and lighting designs.
Forty students from Michigan Tech were already scheduled to attend the Region III festival in January to compete for awards in several categories, from acting to sound and costume design. They will now be joined by the casts and crews of the plays, which will be fully staged in the new venue, with strict limits on the amount of time allowed for setting the stage and all the technical aspects of the play.
Helsel, assistant professor of theatre, joined Michigan Tech's faculty in 2006. She has directed several plays, including the spring 2009 musical, "The Robber Bridegroom." Set designer Brock Nummerdor, lighting designer Frank Sopjes, costume designers Simone Boicourt and Esther Chuah, sound designer David Nichols, and stage manager Mike McKeller, plus the crew and eight of the nine actors, are Michigan Tech undergraduates.
Michigan Technological University is a public research university, home to more than 7,000 students from 54 countries. Founded in 1885, the University offers more than 120 undergraduate and graduate degree programs in science and technology, engineering, forestry, business and economics, health professions, humanities, mathematics, and social sciences. Our campus in Michigan's Upper Peninsula overlooks the Keweenaw Waterway and is just a few miles from Lake Superior.