Mining History Comes to Life at Michigan Tech Commencement
By Jennifer Donovan | Published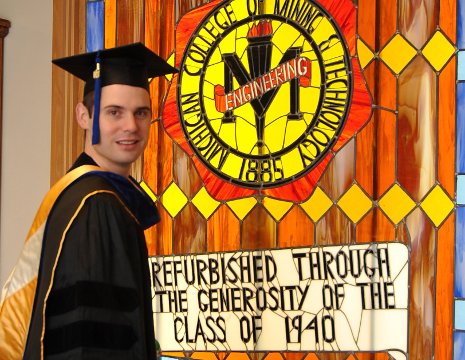 In 1932, a distinguished Michigan mining engineer named Scott Turner received an honorary doctorate in engineering from Michigan Technological University, at that time called the Michigan College of Mining and Technology. At Michigan Tech's midyear Commencement on Dec. 12, 2009—77 years later— one of the first recipients of the University's PhD in industrial heritage and archeology will wear Turner's historic academic hood to accept his degree.
Cameron Hartnell spent four years tracking Turner's history-making work in the high Arctic, north of Norway, where the Arctic Coal Company pioneered northern mining in the early 20th century, with Turner as its general manager. A native of Australia—almost half as far south of the equator as Turner's mine was north—Hartnell wrote his doctoral dissertation about the Arctic Coal Company's struggles with the climate and environment of the high Arctic and how it overcame them.
"I am deeply honored to wear Scott Turner's hood," says Hartnell. "But actually, this is not the first time I have followed in his footsteps. After tracing his work in the high Arctic for four years, I felt I should raise a glass to him after successfully completing my PhD defense. So a group of us walked to downtown (Houghton, Mich.), to the Douglass House Saloon—where Turner was originally hired as general manager of the Arctic Coal Company—and toasted him properly."
The Arctic Coal Company's mining efforts were funded mostly by the renowned UP landowner J.M.Longyear of Marquette. In fact, the city that grew up around their mine is still called Longyearbyen. It is the administrative capital of the high Arctic archipelago and the most northern settlement of its size in the world.
Most of the company's top management came from Michigan Tech. Turner himself had earned a Bachelor of Science and an Engineering Master's there, as well as a Bachelor of Arts from the University of Michigan,
The Lansing, Mich., native's pioneering mining work in the Arctic and his leadership in his profession earned him the prestigious Hoover Medal in 1957. The medal, named for its first recipient, US President Herbert Hoover, "honors engineers whose preeminent service has advanced the well-being of humanity and whose talents have been devoted to the development of a richer and more enduring civilization." Among other accomplishments, Turner is credited with helping to craft a code of ethics for the engineering profession.
Michigan Tech is the only university that offers a PhD in Industrial Heritage and Archeology and one of only a handful in the world that have graduate programs in the field. Industrial archeology takes an interdisciplinary approach that encompasses archeology, historic preservation, the history of technology and anthropology.
"Learning industrial history has taught me so much about who we are and why we do things the way we do," says Hartnell. "Technologies are not just tools. They bring together people and environments in a particular way, so understanding them tells us a lot about the surrounding society."
Hartnell says he also enjoys "the small stories." He explains: " I've found artifacts and read letters that were so personal that they took my breath away for a moment. Those things might not change history, but I feel as though I've shared a moment with someone long since passed."
The son of MaryEd and Anthony Hartnell of Sydney, Australia, Hartnell attended North Sydney Boys High School and lived at St. Andrew's College during his undergraduate studies. He earned a Bachelor of Arts and a Master's degree in heritage conservation at the University of Sydney.
Michigan Technological University is a public research university, home to more than 7,000 students from 60 countries. Founded in 1885, the University offers more than 120 undergraduate and graduate degree programs in science and technology, engineering, forestry, business and economics, health professions, humanities, mathematics, and social sciences. Our campus in Michigan's Upper Peninsula overlooks the Keweenaw Waterway and is just a few miles from Lake Superior.