Messiah will put the campus, community in the holiday mood
By Dennis Walikainen | Published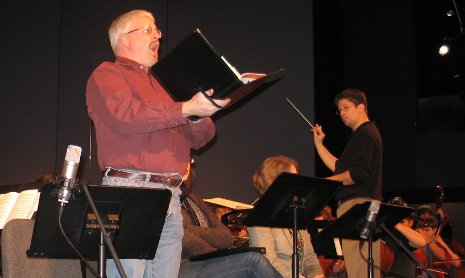 On the night of the first full rehearsal of Handel's Messiah, two student Concert Choir members and I fought the cold wind as we found the stage entrance of the Rozsa Center.
They were going to warm up their voices; I was going to warm up.
The Messiah will be performed Saturday, December 5, at 7:30 p.m. in the Rozsa Center for the Performing Arts.
Seeing the Keweenaw Symphony Orchestra in their street clothes was a bit shocking, but when they ran through sections of Handel's Christmas oratorio, they transported the few of us watching to another place. A good place.
The trumpets sang out high and true, complemented by violins and then cellos to round out the bass.
"Since 1741, this music's never been out of vogue," new director Joel Neves told the performers. "Think about that when you hit that first note."
The orchestra responded.
They sounded more polished as they proceeded, and, in one spot, to get them to better understand the music, he had them sing their parts.
The orchestra became a sonic engine.
"Now that's rhythm," Neves said, as the music enveloped the Rozsa.
One observer noted how young the musicians were, and when the choir joined them, it became a nice mix of hair, some grey, some long.
When both groups were assembled, Neves discussed his goal of the performance: "We want to breathe fresh air into it," he said, making sure it is not too heavy.
When the soloists, and then the full choir, joined in, his lightness was achieved, but still possessing the power of the music. The harpsichord and organ helped.
"I know it's the holidays and finals are coming up, but I want us all to put everything we've got into this," he said.
Judging by this rehearsal, the KSO and Concert Choir are doing just that.
We asked Neves about the task of tackling this monumental piece.
"Whenever an orchestra and choir perform a masterwork on the scale of Handel's Messiah, it is a massive undertaking," he said. "There's the choir, there's the orchestra, there's the collaboration with four vocal soloists, there's the addition of a harpsichordist and organist, there's the almost forty separate musical movements that need to be coordinated: it's a real party when this musical behemoth joins together on stage!"
He said that one of the challenges involves the choir and soloists rehearsing for several months, but getting together for only three joint rehearsals before the concert. When they finally do all perform together, it can be "a real challenge to make a cohesive product."
"There needs to be really good communication and, most importantly, a sense of humor about it all," he said. "It's really a miracle that everything comes together so nicely at the concert."
And why did we choose to perform the Messiah for this season?
"The KSO and Concert Choir have traditionally performed the Messiah once every four or five years, and this production meets that expectation," he said. This way, it prevents overexposure, he explained.
"It needs to seem like a brand-new composition, something that is fresh and appealing, not a musical albatross forced upon everyone each Christmas season," Neves said.
He also said the main reason why the KSO--"and every other community and professional orchestra in the Western hemisphere"--performs Messiah so frequently is the quality of the music "that seems to awaken the most elevated feelings in the human soul."
"How many compositions written 265 years ago can be hummed by virtually every person on the planet today? Will we still be talking about "Sergeant Pepper's Lonely Hearts Club Band" or "Stairway to Heaven" or "I've Got Friends in Low Places" in the year 2274? I can't say. But I do know that Handel's canny compositional craft and spiritual sense makes his Messiah one of those rare experiences where an audience member walks away both emotionally charged and spiritually enlightened."
Michigan Technological University is a public research university, home to more than 7,000 students from 60 countries. Founded in 1885, the University offers more than 120 undergraduate and graduate degree programs in science and technology, engineering, forestry, business and economics, health professions, humanities, mathematics, and social sciences. Our campus in Michigan's Upper Peninsula overlooks the Keweenaw Waterway and is just a few miles from Lake Superior.