Center Court Connection: Ten Years with Women's Basketball "Family"
By Dennis Walikainen | Published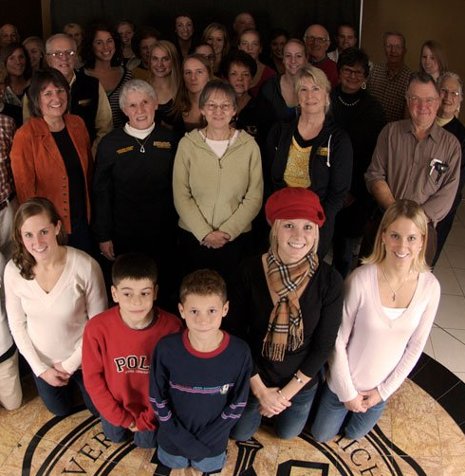 It can sometimes be tough, and lonely, playing women's basketball in the snow banks of the north and far from home. So, Ron Helman and other fans decided to do something about it.
Since 2000, they've been ambassadors of goodwill and supporters,of Michigan Technological University's women's basketball team as members of the Center Court Connection (C3). Each individual or couple takes a player under wing for their duration at Michigan Tech. They become surrogate parents, or in Helman's case, "grandparents."
And that includes "phoning home," even in life after Tech.
"Catherine Rottier ['07] still calls us monthly," says Helman, Michigan Tech's former vice president for advancement. "And she moved her marriage date off commencement weekend so Lou Ellyn and I can attend!"
That's how close some of the women become with their individual supporters. It's a story told often in the ten years of C3's existence, according to head women's basketball coach John Barnes.
"They become their families in the stands," Barnes said. "They form this relationship, this bond, with a member of the team. They sometimes help with the homesickness, too."
Rottier echoes Barnes' thoughts. "I am so blessed to have been a part of Michigan Tech athletics and receive overwhelming support from the community," Rottier says. "The C3 program develops relationships between the athletes and the community that not only last for the athletic seasons but for the many years away from home and possibly a lifetime."
C3s open their homes to the athletes and, according to Rottier, "spread their endless positive outlook on life and basketball," even when the women return to campus as alumnae.
"It has been great to come back to Houghton to watch a few games, and the group members are always there to support me," she says. "It truly makes it feel like a family, with the love and support from the C3s."
Rottier singled out Helman, who was instrumental in developing the program, while becoming her Houghton "grandfather."
"I am so proud that it has lasted ten years because Tech women's basketball would not be the same without the C3 program," she says.
Over the decade, C3 members have traveled to road games to support the team, including last year's run to the NCAA Division II Elite 8. Other activities include preseason kickoff dinners and postgame get-togethers. The C3s are easy to spot with their black pullovers.
Current members of the team have continued connecting with their C3s.
"Over the past six years, I have had the opportunity to get to know so many members of the community, and the C3s do a great job of making us feel like we're right at home here in Houghton," says guard Sarah Stream, who had a couple of medical "red shirts," allowing her an extended stay.
"Our parents aren't always able to make it to the home games, but the C3s are always in the stands cheering us on," she says. "I don't know of any other schools that have any sort of program like this. Our team is very fortunate, and I know all of the women really enjoy it."

Given the recent success of the women's program, the C3s are also fortunate, as they enjoy this latest, perhaps greatest, run toward March Madness.
Michigan Technological University is a public research university, home to more than 7,000 students from 54 countries. Founded in 1885, the University offers more than 120 undergraduate and graduate degree programs in science and technology, engineering, forestry, business and economics, health professions, humanities, mathematics, and social sciences. Our campus in Michigan's Upper Peninsula overlooks the Keweenaw Waterway and is just a few miles from Lake Superior.