Raindrops and cheering in the woods: Cross country running season kicks off
By Dennis Walikainen | Published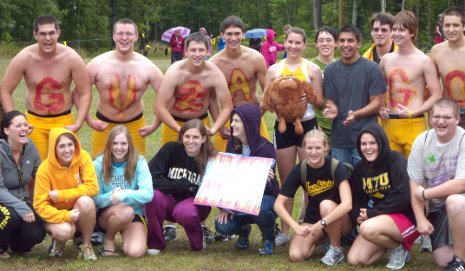 The atmosphere at Tech's first cross country meet was low-key, and the trail was soggy. Coach Joe Haggenmiller wasn't too concerned about finishes by his teams of men and women runners.
"I just want to see how tired they are this year, compared to how tired they were at this time last year," he laughed.
His numbers are up, five to ten more than last year, and he was cautiously optimistic about his men's and women's chances for this new season, begun under gray skies and chilly temps: good running weather, except for the rain.
"I've got three-eighths, one-half, and five-eighths spikes," he hollered out to his charges. Runners prefer different lengths, "depending on foot sensitivity and how much they want to dig in," he said.
Digging in would be good for the tough Tech Trails, the last 1,600 meters of which is mostly uphill, after a downhill hairpin turn.
"Ten minutes to the start," boomed over the loudspeakers.
The men ran small dashes back and forth and stretched before beginning. Pockets of spectators huddled under trees and umbrellas. It was in the mid-fifties and getting cooler.
After the gunshot to start, the herds of runners—Lake Superior State, Gogebic Community College and Northern Michigan—all took off in their school's groups, then gradually spread apart.
The spectators dashed to good viewing spots in the woods, and when they dashed backed to the finish line, it wasn't long before it was over.
Junior Brian Stetter from Tech won with a time of 16:16 over the 5 kilometer (3.1 mile) course. It was only seven seconds from the course record, remarkable for the conditions, "and nobody was pushing him," Haggenmiller said.
He was happy, of course, but he also made of point of shaking all the hands of the men who finished after him.
"Some guys win and just walk away," he said. "That's kind of cocky. I do this because it's good for the team, too."
For the women's team, senior Jenna Klein was hoping to "just run with a good group," she said beforehand. Jenna specializes in Nordic skiing and runs cross country mainly to get in shape.
Many on the team, however, do the opposite, thus the close connection between Nordic skiing and cross country, both of which are coached by Haggenmiller.
Afterward, Klein was pleased, and she did, indeed, run with a nice pack of Huskies.
Ducking into the woods for the women runners, cheers could be heard through the trees. They seemed to be moving along with the runners, and at the end, they were revealed.
One runner, Amanda Guza, a member of the First Year Experience, had her own fan club, complete with body painting. And she was carried off on shoulders, too.
Even more impressive, though, were the cheers at the end of the women's race for the very last runner. As she struggled to finish, she was rewarded with "Good job!" and "Way to go!"
And the rain seemed to let up for a minute.
Michigan Technological University is a public research university, home to more than 7,000 students from 54 countries. Founded in 1885, the University offers more than 120 undergraduate and graduate degree programs in science and technology, engineering, forestry, business and economics, health professions, humanities, mathematics, and social sciences. Our campus in Michigan's Upper Peninsula overlooks the Keweenaw Waterway and is just a few miles from Lake Superior.