Michigan Tech Summer Reading Talk Brings Two Perspectives on Florida's Racial Violence
By Marcia Goodrich | Published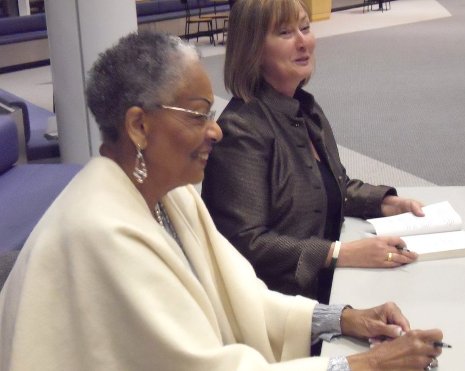 Before there was Birmingham, Ala., there was Jacksonville, Fla. And before there was Martin Luther King Jr., there was Harry T. Moore. First-year students in Michigan Tech's summer reading program packed the Rozsa Center Tuesday to hear two accounts of Florida's little-known reign of terror, perpetrated in the early 1950s by the Ku Klux Klan. Their presentation is available on iTunes U.
Susan Carol McCarthy, author of Michigan Tech's summer reading selection "Lay That Trumpet in Our Hands," conducted extensive research on the terror but didn't remember it because she wasn't yet born when Klan-led violence escalated in 1951. Growing up in a family that owned a Florida orange grove catering to the tourist trade, she enjoyed a relatively peaceful childhood and was only marginally aware of Klan activities in her hometown. She learned of the bombings and killings in 1991, when her father sent her newspaper clippings on an FBI murder investigation that had been sealed by the state of Florida for 40 years. He also included a personal letter detailing his cooperation with the FBI. McCarthy was inspired to write "Lay That Trumpet in Our Hands," a fictionalized account of the times and her father's efforts, seen through the eyes of Reesa, the older sister McCarthy had always wished she had.
McCarthy was joined on stage by Evangeline Moore, the daughter of civil rights activists Harry T. and Harriette M. Moore. He organized the first NAACP chapter in Florida in 1934 and traveled the state, setting up local chapters and registering black voters. "We weren't allowed to travel by bus or train, because they were so segregated," Moore said. Only in bigger cities, like Orlando, could they visit restaurants, because eateries in small towns didn't have the resources to accommodate both whites and blacks. He also investigated lynchings, which were uniformly ignored by local law enforcement. In Jacksonville, Moore and other members of the NAACP developed a manifesto calling for the most basic rights for people of color, a document that was later adopted by Martin Luther King.
By 1946, Harry T. Moore had registered 30,000 black voters in the Democratic Party and blocked efforts to turn the party into a whites-only private club. It may have been his success that prompted a cascade of Klan attacks, said McCarthy.
"Florida had more Klansmen and more black voters than any other state," McCarthy said. "That's a very combustible situation."
In March 1951, the Klan abducted and killed a local black man from Brevord County, which serves as the starting point for "Lay That Trumpet in Our Hands." A series of other attacks continued throughout the year against Catholic, Jewish and black targets, with dynamite being the weapon of choice. The attacks received so much national publicity that tourism suffered, prompting businesses to press for an end to the violence. Then Harry and Harriette Moore were murdered on Christmas Day 1951, when a bomb exploded under their house.
"Afterward, my sister and I were forced to travel from city to city because of threats on our lives," Evangeline Moore said. "We went to a different town every night."
But for most Floridians, "the reign of terror was over," McCarthy said.
Nevertheless, the FBI began investigating Klan attacks in Orange County, with her father's assistance. Six Klansmen were indicted by a federal grand jury, but when the state took jurisdiction, officials sealed the testimony and refused to prosecute. Forty years later, the records were opened and the Orlando Sentinel published the story that would form the basis for McCarthy's book.
Five years ago, Florida undertook a thorough investigation of the Moores' deaths and identified four members of the Apopka Klan as responsible. "If they had been alive, they would have been indicted," said Evangeline Moore. "At last, I could have some semblance of peace."
The Moore's family homesite has been made a cultural center and memorial park, and construction of the outside of a replica of their home is complete. "Soon it will be fixed up inside," she said. "I hope when that happens, I'll find more peace."
Racial violence and bigotry may have abated, McCarthy told the crowd, but racism is alive and well. By virtually every measure, blacks lag behind, and the number of hate groups is up 54 percent since 2000. "The color barrier continues to exist," she said. "Many Americans are choosing to be part of the problem, but I am full of hope the your generation will change this."
Afterward, students asked questions and commented on the lecture and McCarthy's novel. "I think it's a really good book," said Sherelle Martin of Chicago. In particular, it was interesting to read about civil rights from the perspective of a white family involved in the movement, she said.
"I thought it was pretty moving," said Mike Alexander of Ludington. "I never had any idea that Florida had so many problems."
"She really did her research," said Nick Blecha of Green Bay, Wis. "I was galled by the sheer amount of hate these people had. You hear about it, but you can't appreciate it."
Michigan Technological University is a public research university, home to more than 7,000 students from 54 countries. Founded in 1885, the University offers more than 120 undergraduate and graduate degree programs in science and technology, engineering, forestry, business and economics, health professions, humanities, mathematics, and social sciences. Our campus in Michigan's Upper Peninsula overlooks the Keweenaw Waterway and is just a few miles from Lake Superior.