Michigan Tech Summer Reading Focuses on 1950s Racial Violence
By Marcia Goodrich | Published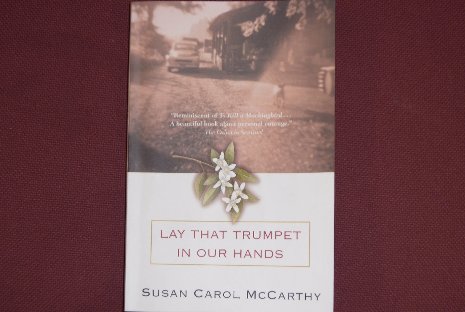 In 2009, "terrorism" evokes 9/11, car bombs in Kabul, and genocide in the Congo. But in the United States of 1951, terrorism was as American as apple pie.
First-year students at Michigan Technological University are learning about America's homegrown barbarism in their summer reading selection, "Lay that Trumpet in Our Hands."
"It's a story of the 1950s in Florida, when there were horrible atrocities committed against blacks and anyone else who wasn't approved of by the Klan," said humanities professor Robert Johnson, an organizer of the Reading as Inquiry program. "It's fiction, but it is based on fact."
"Lay That Trumpet in Our Hands," by Susan Carol McCarthy, is the coming-of-age story of young Reesa McMahon, the daughter of an orange grower, set against a backdrop of hatred and racial violence in the South.
Last year, new first-year students were assigned to read "Three Cups of Tea: One Man's Mission to Promote Peace . . . One School at a Time," by Greg Mortenson, which describes his efforts to work with Afghan villagers to build schools for girls in the face of Islamist violence and gender oppression. "This year we decided to turn our eyes to the domestic," Johnson said. "'Lay That Trumpet in Our Hands' touches on sensitive issues of race and terror that are very relevant to the current time. Back in the 1950s, there was rampant violence in Florida; people disappeared, a Jewish center was bombed, even Catholics were targeted."
The author will come to campus to talk with students and give a lecture on Tuesday, Aug. 25, from 8 to 9:30 p.m. in the Rozsa Center. McCarthy will be joined by Evangeline Moore, now 80, the daughter of two voter registration activists who were killed when their home was bombed. The event is free and open to the public.
In 1991, the Orlando Sentinel published a series of articles on a number of shocking race crimes dating from 1951-52, including the murder of Moore's parents. Those stories, and a startling letter from McCarthy's father describing his cooperation with the FBI, became the basis for her award-winning debut novel.
"It's a very powerful book, and it's been quite popular in summer reading programs for colleges all over the country," Johnson said. "We're excited to have it here."
Most first-year students will discuss the book in groups from 8:30 to 10 a.m. on Wednesday, Aug. 26. Groups for parents and family members who have read the book will be held Saturday, Aug. 22, in Fisher 135. Discussions for student athletes, who arrive on campus this week, will be held Thursday, Aug. 20, from 10:30 to 11:30 a.m. in Memorial Union Ballroom B.
In addition, McCarthy and Moore will be addressing students at Finlandia University, which has also chosen "Lay That Trumpet in Our Hands" as its summer reading selection.
The Reading as Inquiry program is supported in part by a generous donation from David and Elsa Brule of Iron Mountain. Mr. Brule is a former member of Michigan Tech's Board of Trustees.
Michigan Technological University is a public research university, home to more than 7,000 students from 60 countries. Founded in 1885, the University offers more than 120 undergraduate and graduate degree programs in science and technology, engineering, forestry, business and economics, health professions, humanities, mathematics, and social sciences. Our campus in Michigan's Upper Peninsula overlooks the Keweenaw Waterway and is just a few miles from Lake Superior.