Michigan Tech Offering Free Course for Auto Engineers on Next-Generation Hybrid, Battery Technologies
By Marcia Goodrich | Published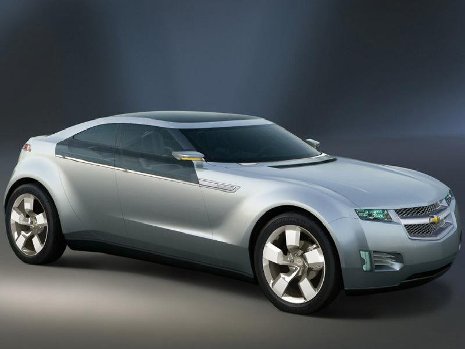 Auto engineers will be able to take a free graduate course in advanced vehicle technologies being taught in the Detroit area this fall by Michigan Technological University.
The 3-credit class is offered in cooperation with the Engineering Society of Detroit and AVL, a developer of powertrains and vehicle simulation and test systems based in Plymouth. The curriculum focuses on engineering skills that apply to next-generation hybrid and electric vehicles, such as the Chevy Malibu and Volt and the Ford Fusion and Escape, with an emphasis on battery design and hands-on learning.
The course is under the direction of Jeff Naber, associate professor of mechanical engineering–engineering mechanics. He taught a similar distance-learning course offered earlier this year to laid-off engineers in the auto industry.
The class is being offered under the auspices of the Michigan Academy for Green Mobility, in cooperation with the state Department of Energy, Labor and Economic Growth. The academy promotes worker training in green technologies for the auto industry.
"This marks a big step forward in developing an engineering workforce with the specific knowledge and skills to design and manufacture automobiles for the 21st century," said Sean M. Newell, chair of the academy's governing board.
The Engineering Society of Detroit is providing classroom facilities in Southfield, and AVL is providing lab space. General Motors is donating three hybrid vehicles, and Ford and Lotus are giving additional support.
The Engineering Society of Detroit is accepting applications from students interested in taking the course, Advanced Propulsion for Hybrid Vehicles with Concentration in Battery Engineering. First preference will be given to engineers employed in the auto industry. Their tuition will be covered by federal dollars administered through Michigan Works! Auto engineers who are unemployed are also encouraged to apply and will be admitted tuition-free if space is available.
More information and application materials on the course are available from the Engineering Society of Detroit or by calling 248-353-0735. Enrollment is limited; preference will be given to applications received by Aug. 19.
The semester-long class begins Sept. 3. The course will be offered again in the spring.
Michigan Technological University is a public research university, home to more than 7,000 students from 54 countries. Founded in 1885, the University offers more than 120 undergraduate and graduate degree programs in science and technology, engineering, forestry, business and economics, health professions, humanities, mathematics, and social sciences. Our campus in Michigan's Upper Peninsula overlooks the Keweenaw Waterway and is just a few miles from Lake Superior.