Gunning for Even Better Skiing: Mont Ripley Improvements Continue
By Dennis Walikainen | Published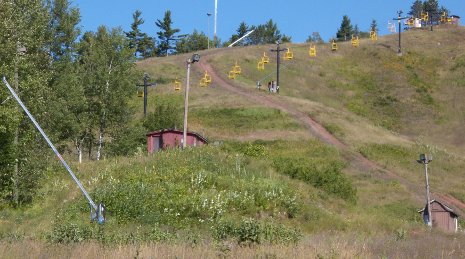 Late August might seem an odd time of the year to discuss skiing, but Nick Sirdenis will chat about the sport and Mont Ripley Ski Hill anytime. In fact, he and his crew are quite busy on this sunny, mid-60s Wednesday, and, in part, it's El Niño's fault.
"El Niño means warmer temperatures and less precipitation in the winter, and that's not good for the Midwest," says Sirdenis, general manager of Mont Ripley for nine years. Recently, he says, downstate and Wisconsin ski areas have been especially hard hit.
To stay ahead of the weather, the Ripley gang needs to produce more snow themselves, believe it or not, in an area averaging 200-plus inches of white stuff each winter. The hill faces south, and the snow guns, all 19 of them, are needed to fill the gaps, spread out the powder, and extend the season.
"Skiers' expectations keep rising," Sirdenis says. "They want more runs, terrain parks for free-styling and grinding, lights for night skiing, and more."
"The bottom line is that the snow is the raw material of the product we are selling, which is having fun," Sirdenis says. "We have to make sure we have enough snow, and, at the same time, we need to constantly improve what we offer."
Mont Ripley has been able to make those improvements, he says, thanks to the Experience Tech Fee and other funding. "We've added trails, more lighting for night skiing, and another lift, in addition to the snow guns."
The latest additions are stick guns, Sirdenis says, which extend 30 feet into the air and create two huge mounds of snow—16 feet high by 75 feet long by 30 feet wide—by pumping some 75 gallons of snow per minute. Snow bulldozers ("snow cats") move the snow around from there.
On this summer day, the stick guns and polecats (snow-making spray guns) dot the hills and gullies as workers move around on ATVs and work in a backhoe on top, radioing questions to Sirdenis all the while.
The new guns are ready, and two new trails—Deer Track and Powder Stash—are now lit. They are easier runs, and those are at a premium at the tough hill. More improvements abound.
The chalet is getting new carpeting ("the old stuff was from the Nixon era"), improved check-in and office space, and, thanks to a new sewer line running right up the middle of the hill to Franklin Township, future expansions to the chalet are now possible.
"We'll be able to do more with food in the future," Sirdenis says. "We'd like to expand the entire chalet size. We only have 1,200 square feet of usable space, and we can have 600 to 700 people on the hill at once. It gets tight."
They have added outbuildings, such as the Race Room for storage, to alleviate some pressures, but more space is needed.
Some improvements have been student-made. The structures for the terrain park were made by the Board Sport Technologies Enterprise team.
"Last year was the first time I was really proud of our product," Sirdenis says, but he wants to do more, including possible expansion of the hill to the west. His dreams include another pump and twice as many snow guns, to cover all 100-plus acres. As it is, thanks to some special engineering, some of the stick guns are movable.
"You know what they say, 'If you are not busy growing, you are dying,'" he says. "I think we can become a destination for someone in Milwaukee, Chicago, or Green Bay to come up for a weekend, and mom and dad can ski or drop off the kids at the hill and watch them from the Library Restaurant."
And the view isn't bad the other way, either. In fact, the chairlift rides will return for Family Weekend, Oct. 3–4, and Homecoming, Oct. 10–11, just in time for the fall colors.
Michigan Technological University is a public research university, home to more than 7,000 students from 54 countries. Founded in 1885, the University offers more than 120 undergraduate and graduate degree programs in science and technology, engineering, forestry, business and economics, health professions, humanities, mathematics, and social sciences. Our campus in Michigan's Upper Peninsula overlooks the Keweenaw Waterway and is just a few miles from Lake Superior.