GM Gives Michigan Tech 3 Hybrid Vehicles for Research and Education
By Jennifer Donovan | Published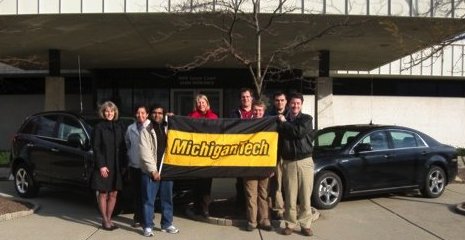 General Motors has donated two Saturn Vue hybrids and a Chevrolet Malibu hybrid—the Chevy that a top GM executive drove to Washington, DC, last spring to meet with Congress—to Michigan Technological University. The vehicles will be used for research and education.
"The donation of these vehicles from GM will enable us to further our research in reducing fuel consumption and emissions, including enabling near-zero emissions for biofueled vehicles," said Jeff Naber, a professor of mechanical engineering-engineering mechanics at Michigan Tech and a lead researcher and director of the Advanced Internal Combustion Laboratories at Michigan Tech.
The Saturns will be used to find ways to minimize the impact that ethanol blend fuels have on cold-start emissions, Naber said. Research will be conducted in Michigan Tech's climate controlled facilities with combustion and emissions instrumentation and will include investigation into higher cranking speed, improved fuel control and variable valve actuation, he went on to say.
The Saturns and the Malibu will also be used for hands-on instruction in an advanced propulsion technology course for engineers being offered in Detroit this fall by Michigan Tech, AVL and the Engineering Society of Detroit (ESD). Naber is the lead faculty member for the course, modeled after a breakthrough course that the University, GM and ESD offered to displaced automotive engineers last spring. The new course is offered with full tuition support via federal funds through the Michigan Department of Energy, Labor and Economic Growth and the Michigan Academy for Green Mobility.
"Feeling the full force of the economic pressures that the auto industry and state of Michigan are facing, General Motors has needed to look for creative ways to partner with great universities like Michigan Tech," said Terry Woychowski, vice president global vehicle program management at GM and a Michigan Tech alumnus. "We have enjoyed a long-term partnership in many areas, with powertrain development being a particularly successful area of research and development. Our recent collaborative effort to deliver advanced propulsion training to displaced engineers was an excellent example of that partnership. The donation of these state-of-the-art hybrid vehicles is a natural extension of that partnership and supports the ongoing research, development and education that is required as we boldly move forward in the re-invention of the automobile."
Bill Predebon, chair of mechanical engineering-engineering mechanics at Michigan Tech, praised GM for its donations. "The gift of the hybrid vehicles to Michigan Tech is an example of GM's commitment to educating the future workforce of Michigan and the US in the technology needed for advanced hybrid and electric vehicles," he said. "This is particularly significant given the difficult economic times that face our nation."
Michigan Technological University is a leading public research university, conducting research, developing new technologies and preparing students to create the future for a prosperous and sustainable world. Michigan Tech offers more than 130 undergraduate and graduate degree programs in engineering, forestry and environmental sciences, computing, technology, business and economics, natural and physical sciences, arts, humanities and social sciences.
Michigan Technological University is a public research university, home to more than 7,000 students from 54 countries. Founded in 1885, the University offers more than 120 undergraduate and graduate degree programs in science and technology, engineering, forestry, business and economics, health professions, humanities, mathematics, and social sciences. Our campus in Michigan's Upper Peninsula overlooks the Keweenaw Waterway and is just a few miles from Lake Superior.