Former Tech Faculty Member Inducted into Construction Hall of Fame
By Marcia Goodrich | Published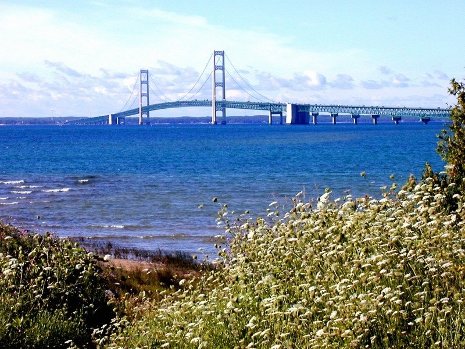 The late Ed Haltenhoff, who served 15 years on Michigan Tech's civil and environmental engineering faculty, was inducted July 29 into the Michigan Construction Hall of Fame.
The Michigan Construction Hall of Fame, located at Ferris State University, recognizes leaders in Michigan's construction industry.
Charles Edwin "Ed" Haltenhoff was a soldier in World War II and received many commendations, serving in France, Belgium and Germany. After the war, he attended Lehigh University, graduating in 1951 with a degree in civil engineering.
In 1954, he was appointed project engineer for all on-site construction engineering pertaining to the foundation for the Mackinac Bridge. In 1956, he joined the Mackinac Bridge Authority as chief engineer and remained as general manager until 1965. Then he joined Elzinga and Volkers Inc., where he assumed the presidency in 1968 and was named chairman of the board in 1978.
In 1980, he joined the civil engineering department at Michigan Tech. He received the University's Distinguished Teaching Award in 1990, was awarded the department's Outstanding Teacher Award four times, and was designated a Distinguished Lecturer in 1992. His final award was the Alumni Association's Outstanding Service Award in 1995. While at Michigan Tech, he published widely on construction management and authored a construction management textbook. Haltenhoff died Dec. 6, 2005.
Michigan Technological University is a public research university, home to more than 7,000 students from 60 countries. Founded in 1885, the University offers more than 120 undergraduate and graduate degree programs in science and technology, engineering, forestry, business and economics, health professions, humanities, mathematics, and social sciences. Our campus in Michigan's Upper Peninsula overlooks the Keweenaw Waterway and is just a few miles from Lake Superior.